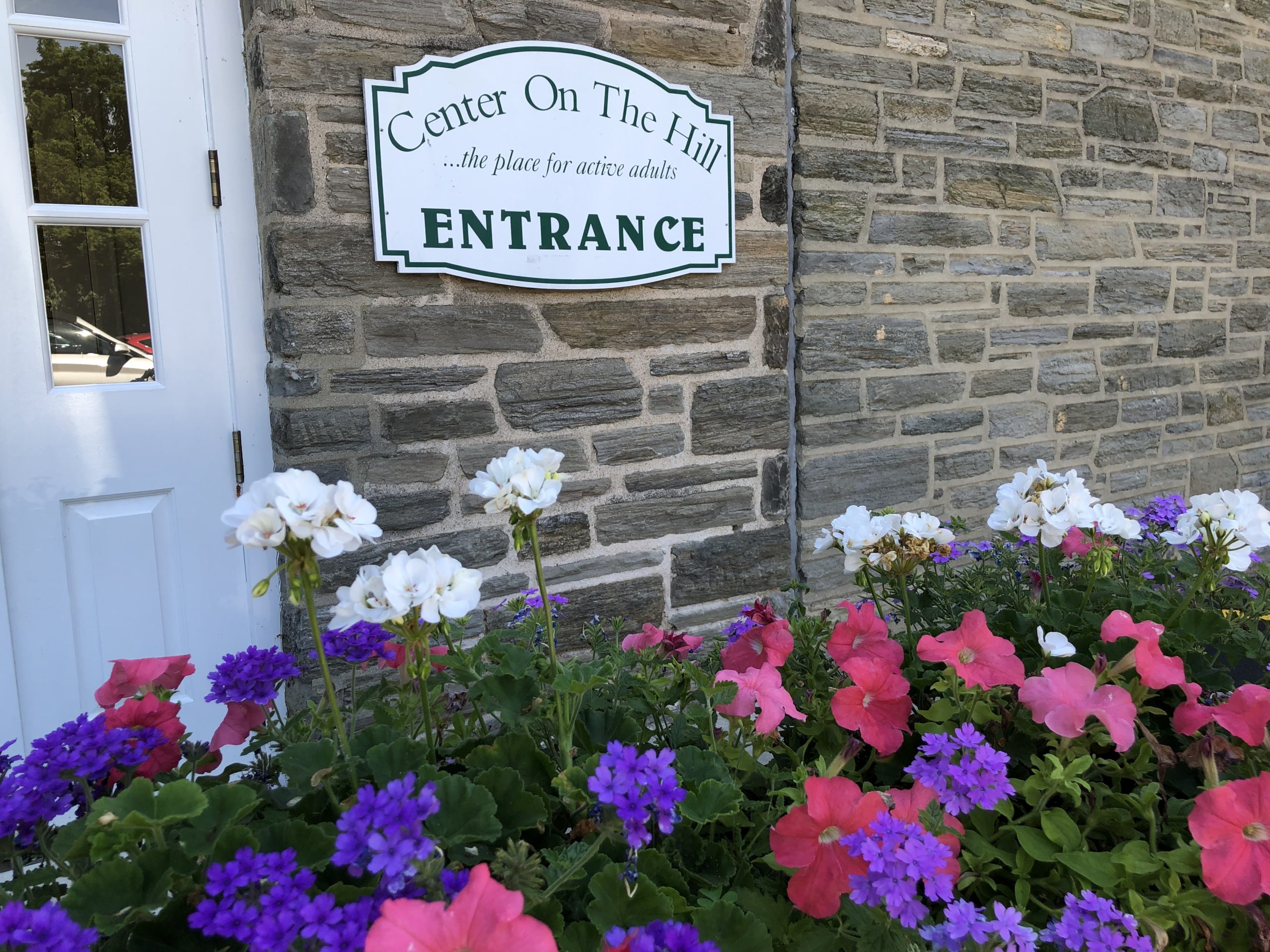 The Center on the Hill is OPEN with all our practices and protocols in place including (sanitation practices, limited number of participants per class, social distancing, and UV air filters).
IT'S SUMMERTIME AT THE CENTER! Click HERE to view, download and print our Summer Schedule of events, classes and groups! Registration Required for all classes and events and class/group sizes are limited for social distancing.
New Online Content is posted here daily Monday – Thursday at Noon. Fitness videos, lectures, games, and much more! CLICK HERE to view the schedule of daily postings.
Find helpful resources on our web page HERE . Updated regularly with important information and resource links you may need during this time.
To find more links and videos previously posted- CLICK HERE to visit our More Online Programming page where all our posts are archived for easy access.
---
UPCOMING CLASSES & EVENTS:
**THE CENTER WILL BE CLOSED FOR DEEP CLEANING Monday August 15- Friday August 19, 2022**
Registration Required for all classes and events. Contact 215-247-4654 or email: [email protected] to register.  Space in all activities is limited for social distancing. Streamed events are recorded and posted here the next day.
JULY & AUGUST ART GALLERY EXHIBIT– THURSDAY PAINTERS Watercolor Exhibit Inspired by Landscape and Design
The "Gallery" is open for viewing Monday-Friday 10am-4pm daily and before and after worship services.
Be sure to stop by the halls of the center this summer and take a look at the showcase of eclectic, and engagingly profound art works by the Thursday Painters. Former students of Howard Watson at The Woodmere Museum, this group is bringing a special collection of their works to our halls for the summer.
SCRABBLE – OPEN PLAY Fridays, ongoing start anytime 10:00am – 12:00pm $2
Do you love to play board games? Are you a great speller or want to be a great speller? Then join in on this classic crossword game that is full-on fun. You can feel the excitement begin as soon as you rack up your letters, choose a great word, and hope to land on a triple-word score. Scrabble game provided.
INTERNATIONAL FOLK DANCING Fridays, ongoing start anytime 12:30pm – 2:30pm $60 for ten sessions, $7 per session at the door. Your first visit is free.
Start your weekend right! Enjoy learning folk dances from the Balkans, Greece, France, the British –Isles, and beyond. No partner is needed, as most dances are done in lines and circles. There is always a mix of teaching and "just dancing" and it's a great place for beginners to pick up the basics in a super friendly group. For more details about our Friday folk dance session, contact Anne Ehrhart at [email protected]
THINGS TO KEEP YOU HEALTHY AND ACTIVE:
Did You See This? Try this Quick 7-Minute Qi Gong Routine to Reset Energy Click HERE
7 exercises to help you feel your best from Silver Sneakers. Click HERE
Shake it out with this fun Latin Dance Workout! Click HERE
Try 15 Minutes of Active Stretching to stay loose and fit! Click HERE
Reminder: You can find more fitness links on our More Online Programming page HERE
---
PRESENTATIONS FROM OUR INSTRUCTORS AND PARTNERS:
Watch and Learn about Traveling by Riverboat and Railways from our friend Lyn at 115 Travel. Click HERE
Watch the recorded presentation "Do I Stay or Do I Go" presented by Human Touch Home Care. Click HERE
Watch and learn about Online Safety: Avoiding Internet and Phone Scams from our friends at Salus University. Click HERE Then download and print the Handout for reference. Click HERE
Diabetes & Nutrition Class with Kirsten Puskar! Recorded classes and presentations from the last year can all be watched on our YouTube Channel CLICK HERE
More Lessons and Lectures from our instructors can be found on our More Online Programming Page– Click HERE
---
ART ACTIVITIES AND LECTURES:
Did You See This? Watch and Learn how to paint a beautiful forest with acrylic paints, in this tutorial for beginners. Click HERE
From the Chicago Museum of Art, learn about Japanese Prints—Hokusai's Fantastic Landscapes Click HERE
Learn to paint flowers with blue sky and clouds using acrylic paint. Click HERE
Learn how to create works of Art with found objects. Click HERE
More Art Lessons and Lectures can be found on our More Online Programming Page– Click HERE
---
WATCH AND LEARN PRESENTATIONS:
Visit the Airplane Boneyard in Arizona. What all can you find there and why. Click HERE
Watch and learn about the Famous and Historic Route 66, past and present. Click HERE
Take a trip back to the 1960's and look through vintage photos from summer days spent poolside. Click HERE
---
VIRTUAL TOURS- PLACES YOU CAN VISIT TODAY:
Did You See This? Take a virtual trip to the European country of MALTA today! Click HERE
Enjoy this Virtual Tour of Chile in HD. Click HERE
Visit the picturesque country of Austria today on this stunning virtual tour. Click HERE
---
GAMES, CRAFTS AND ACTIVITIES:
NEW TODAY! Give your brain a workout with this fun Matching brain game– Trizzle! Click HERE
Try some of these planting hacks this summer to grow things at home! Click HERE
Summer is not over yet! Get cooking today -try some of these great Summer recipes. Click HERE
---
FUN INTERACTIVE GAMES:
Tell Me Something Good! (with Special GUESTS!) All episodes (1-39) are HERE Watch the videos and share your thoughts with us. Join the Conversation!
All our Interactive Trivia Games from the past year and a half, you can play from home for fun:
*Answer videos included in each playlist, as we are no longer accepting answers in real time since these games have now ended.
---
MORE INFORMATION:
Visit and subscribe to our YouTube Channel anytime by clicking HERE or visit our Facebook page (click HERE) for more links and to stay in touch!
To be added to our mailing list for bi-weekly emails or for more information, please contact Mariangela Saavedra, Director, at 215.247.4654 or [email protected]
For a complete list of programs, read the most recent issue of At the Center of Things, the newsletter of Center on the Hill. Download our latest newsletter of activities by [clicking here].