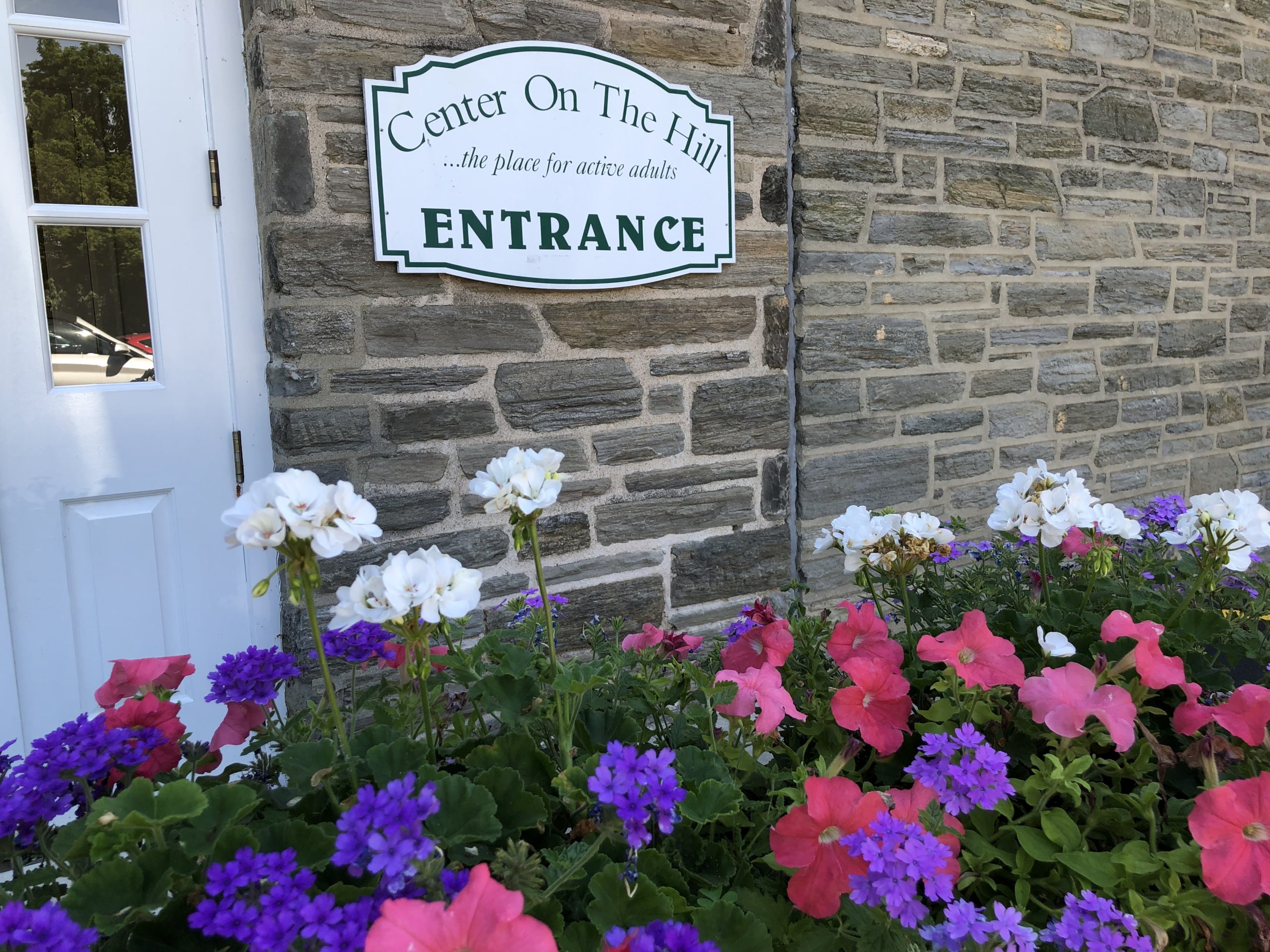 Center on the Hill is OPEN for in-person activities (with protocols in place), as well as a variety of things you can still enjoy online from home!
Our FALL NEWSLETTER IS HERE! Click HERE to view, Download and Print out the full Fall season of offerings!
New Online Content is posted here daily Monday – Thursday at Noon. Fitness videos, lectures, games, and much more! CLICK HERE to view the schedule of daily postings.
Find helpful resources on our web page HERE . Updated regularly with important information and resource links you may need during this time.
To find more links and videos previously posted- CLICK HERE to visit our More Online Programming page where all our posts are archived for easy access.
---
UPCOMING CLASSES & EVENTS:
Registration Required for all classes and events you plan to attend in person. Contact 215-247-4654 or email: [email protected] to register. Streamed events are recorded and posted here the next day.
ART SHOW & SALE- NW Philly Artists 
This exhibit and sale is open Monday- Fridays 10am-4pm, Saturdays and Sundays 9am-12pm. No Appointment needed.  Please stop by this exhibition from November 26th to December 17th that features artwork created during the pandemic by the center's own NW Artists. Original paintings, photography, drawings, greeting cards, jewelry, and more will be on display and for sale. A percentage of sales support the Center on the Hill.
Community Holiday Party Thursday December, 9th   12:30pm-2:30pm  $10 Per Person in Advance, $12 at the door.
Registration and Payment is required by Monday December 6th, or you will be charged the at the door rate. Join us for this wonderful holiday party with music, friends, festive decorations, light bites and dessert buffet! Featuring a Live Holiday Cabaret performance by Rachel DeMasi at 1:00pm *This party is subject to all current Covid guidelines, including proof of vaccination, gathering limits, and social distancing. You can pay online for this event: CLICK HERE
THINGS TO KEEP YOU HEALTHY AND ACTIVE: 
NEW TODAY! Prevent Falls with these 5 Power Exercises you can do in less than 10 min a day! Click HERE
Try these exercises to help with shoulder pain. Click HERE
Start your day off right with this great Morning Workout from Silver Sneakers! Click HERE
These Exercises for Fibromyalgia will help you improve your range of motion, and relieve pain. Click HERE
Reminder: You can find more fitness links on our More Online Programming page HERE
---
CLASSES AND LECURES FROM OUR INSTRUCTORS AND PARTNERS:
Watch our Lecture from last week called "No Place Like Home" presented by our friends at Human Touch Home Care. Click HERE
Watch our Lecture by Jerri Kohut all about "Socialization: The Best Vitamin". Click HERE
Watch and learn about Online Safety: Avoiding Internet and Phone Scams from our friends at Salus University. Click HERE Then download and print the Handout for reference. Click HERE
Diabetes & Nutrition Class with Kirsten Puskar! Recorded classes and presentations from the last year can all be watched on our YouTube Channel CLICK HERE
More Lessons and Lectures from our instructors can be found on our More Online Programming Page– Click HERE
---
ART ACTIVITIES AND LECTURES:
Enjoy this Acrylic Painting Demo about How to paint simple abstract Florals. Click HERE
Sketching Basics: All About Lines. Watch and Learn how to draw lines when you sketch. Click HERE
Watch this fascinating Art lecture from the Museum of Fine Arts in Boston called- Learning to See. Click HERE
The Complete beginners guide to painting with Watercolors! Click HERE
More Art Lessons and Lectures can be found on our More Online Programming Page– Click HERE
---
WATCH AND LEARN PRESENTATIONS:
This History Chanel show about the Real Story of Thanksgiving, gives viewers a new understanding of how this much-loved holiday has changed over time. Click HERE
Learn all about the history of The Empire State Building in NYC. Click HERE
Discover how the Vikings Ruled the Seas, with their creation of Long Boats. Click HERE
Watch and Learn about The Art of Mindfulness. Presented by our friends at Cathedral Village. Click HERE
---
VIRTUAL TOURS- PLACES YOU CAN VISIT TODAY:
Explore the outer banks of North Carolina and the site of the Lost Colony. Click HERE
Take a Virtual Tour of the Pyramids of Giza and see what it might have looked like back then too! Click HERE
Take a wonderful tour of the Ukraine, the largest country in Europe. Click HERE
Visit the Grounds For Sculpture in Hamilton NJ today on this Virtual Tour, then plan your visit to see it in person! Click HERE
---
GAMES, CRAFTS AND ACTIVITIES:
Learn how to play Dominos for two players! Click HERE
Check out these 10 of the EASIEST Thanksgiving Side Dishes, and get cooking! Click HERE
Give your brain a workout today with this Mahjong Challenge matching game you can play online for free. Click HERE
---
FUN INTERACTIVE GAMES:
Tell Me Something Good! (with Special GUESTS!) All episodes (1-39) are HERE Watch the videos and share your thoughts with us. Join the Conversation!
All our Interactive Trivia Games from the past year and a half, you can play from home for fun:
*Answer videos included in each playlist, as we are no longer accepting answers in real time as these games have ended.
---
MORE INFORMATION:
Visit and subscribe to our YouTube Channel anytime by clicking HERE or visit our Facebook page (click HERE) for more links and to stay in touch!
To be added to our mailing list for bi-weekly emails or for more information, please contact Mariangela Saavedra, Director, at 215.247.4654 or [email protected]
For a complete list of programs, read the most recent issue of At the Center of Things, the newsletter of Center on the Hill. Download our latest newsletter of activities by [clicking here].