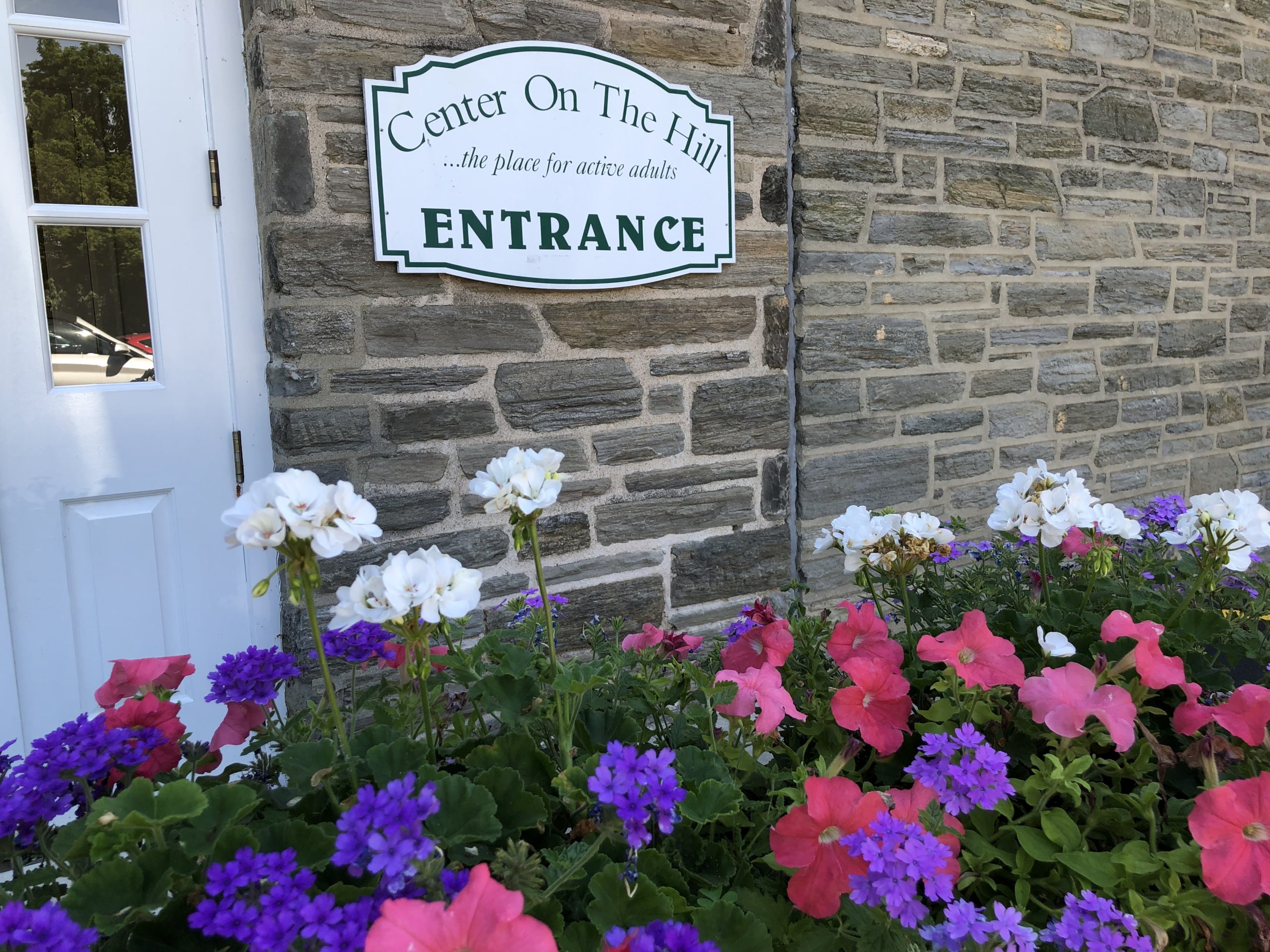 Center on the Hill has returned to ONLINE ONLY activities for people to participate in or watch from home.
View and Download The WINTER NEWSLETTER today! Click HERE
New Online Content is posted here daily Monday – Thursday at Noon. Video messages, fitness activities, lectures, games, and much more! CLICK HERE to view the winter schedule of daily postings.
Find helpful resources on our web page HERE . Updated regularly with important information and resource links you may need during this time.
To find more links and videos previously posted- CLICK HERE to visit our More Online Programming page where all our posts are archived for easy access.
---
UPCOMING ONLINE CLASSES & EVENTS:
Registration is Required for all online participation classes and events.
Information to join by computer, tablet, or call in by phone for online events sent after you register.
Call 215-247-4654 or email [email protected] to register.
ONGOING! Golden Yoga  Wednesdays, beginning February 3rd, start anytime.  3:00pm- 4:00pm  $10 a class or $40 a month. Instructions and link to join, sent after you register. Golden Yoga is a classical yoga, adapted by the SKY Foundation, to accommodate those who have difficulty getting up and down from the floor. Click HERE for more information.
THURSDAY! Keys to Posture and Balance Thursdays, March 4 and 11 2:00pm-3:00pm $10 per class –take one or both classes.
It is extremely important to maintain good posture to support our health and minimize structural discomforts. In the aging process, alignment and balance can become challenged. This class will give foundational guidelines to maintain postural alignment and increase balance efficiency.
CLICK HERE to watch the How to Use Zoom Tutorial. This Basic Zoom Tutorial shows you how to join a Zoom Meeting/Event from your Computer, Tablet, Cell Phone or how to dial in from a Land Line.
THINGS TO KEEP YOU HEALTHY AND ACTIVE: 
NEW TODAY! Try this 8 minute Low Impact Dance Workout from Silver Sneakers to get you moving today! Click HERE
5 minute exercises you can do at your desk to help improve postural imbalances, as well as tension in your body ! Click HERE
Get up and get moving with this 20 minute Zumba Gold workout. Click HERE
Reminder: You can find more fitness links on our More Online Programming page HERE
---
MESSAGES AND LESSONS FROM OUR INSTRUCTORS:
Did You See This? From the Archives!  Watch the recording of our Injury Prevention and Balance workshop from 10-29. Click HERE. Download the supplemental hand outs HERE and HERE.
Diabetes & Nutrition Class with Kirsten Puskar, recorded on Wednesday February 10th, 2021 Topic: Healthy Foods, Healthy Nutrition CLICK HERE
Learn all about Medicare Options, from our Medicare counselor Joan Adler, in this informative presentation. Click HERE
---
ART ACTIVITIES AND LECTURES:
Enjoy this short lecture titled Rembrandt: The power of his self portraits from the National Gallery. Click HERE
How to Paint with Watercolor Pencils and Ideas for Beginners. Click HERE
Learn to draw with Pastels in this easy beginners lesson. Click HERE
Watch this fascinating brief lecture about Impressionism paintings. Click HERE
---
WATCH AND LEARN PRESENTATIONS:
Jerri Kohut is back talking about how to Manage your Medications. This informative presentation recorded live on February 18th. Click HERE
Take a look behind the curtain and watch how they staged the 25th Anniversary production of Phantom of the Opera at The Royal Albert Hall. Click HERE
Watch this short Documentary about the Chestnut Hill Railroads presented by the Chestnut Hill Conservancy. Click HERE
Learn about how to Keep Your Home Safe, presented by our friends at Salus University. Click HERE (You can download the handout they mention HERE.)
---
VIRTUAL TOURS- PLACES YOU CAN VISIT TODAY:
Take a Virtual Tour of the Metropolitan Museum of Art's Exhibition—Making the Met, 1870–2020, Narrated by Steve Martin. Click HERE
Take a tour of the National Air and Space Museum in DC. Click HERE
Visit Chanticleer Gardens and see all it's Winter splendor in this Video Tour from February 5th. Click HERE
Take a 360 degree Virtual Tour of The Statue of Liberty. Use your mouse to click on various areas and move around to see inside and out in ways you never could in person. Click HERE
---
GAMES, CRAFTS AND ACTIVITIES:
NEW TODAY! You can play 12 different versions of Solitaire online for free- Click HERE. Use the MORE button on the lower left after you select your came to learn how to play it. 
Learn to Crochet a hat with this easy tutorial for beginners. Click HERE
Miss playing Bridge? Keep your skills sharp by playing Bridge online– Click HERE
---
FUN INTERACTIVE GAMES:
Play Round 3 of our Trivia Game: THAT'S SO 80'S! Click HERE
Play Rounds 1 – 2 Click HERE
New rounds posted every Tuesday!
Every correct answer gets you entered to win!
*Honor system- don't use the internet when you get stumped.
Email your answers to [email protected]
Answers Video posted every 5 rounds!
Tell me something good! (with Special GUESTS!) All episodes (1-39) are HERE Watch the videos and share your thoughts with us. Join the Conversation!
---
MORE INFORMATION:
Visit and subscribe to our YouTube Channel anytime by clicking HERE or visit our Facebook page (click HERE) for more links and to stay in touch!
To be added to our mailing list for bi-weekly emails or for more information, please contact Mariangela Saavedra, Director, at 215.247.4654 or [email protected]
For a complete list of programs, read the most recent issue of At the Center of Things, the newsletter of Center on the Hill. Download our latest newsletter of activities by [clicking here].