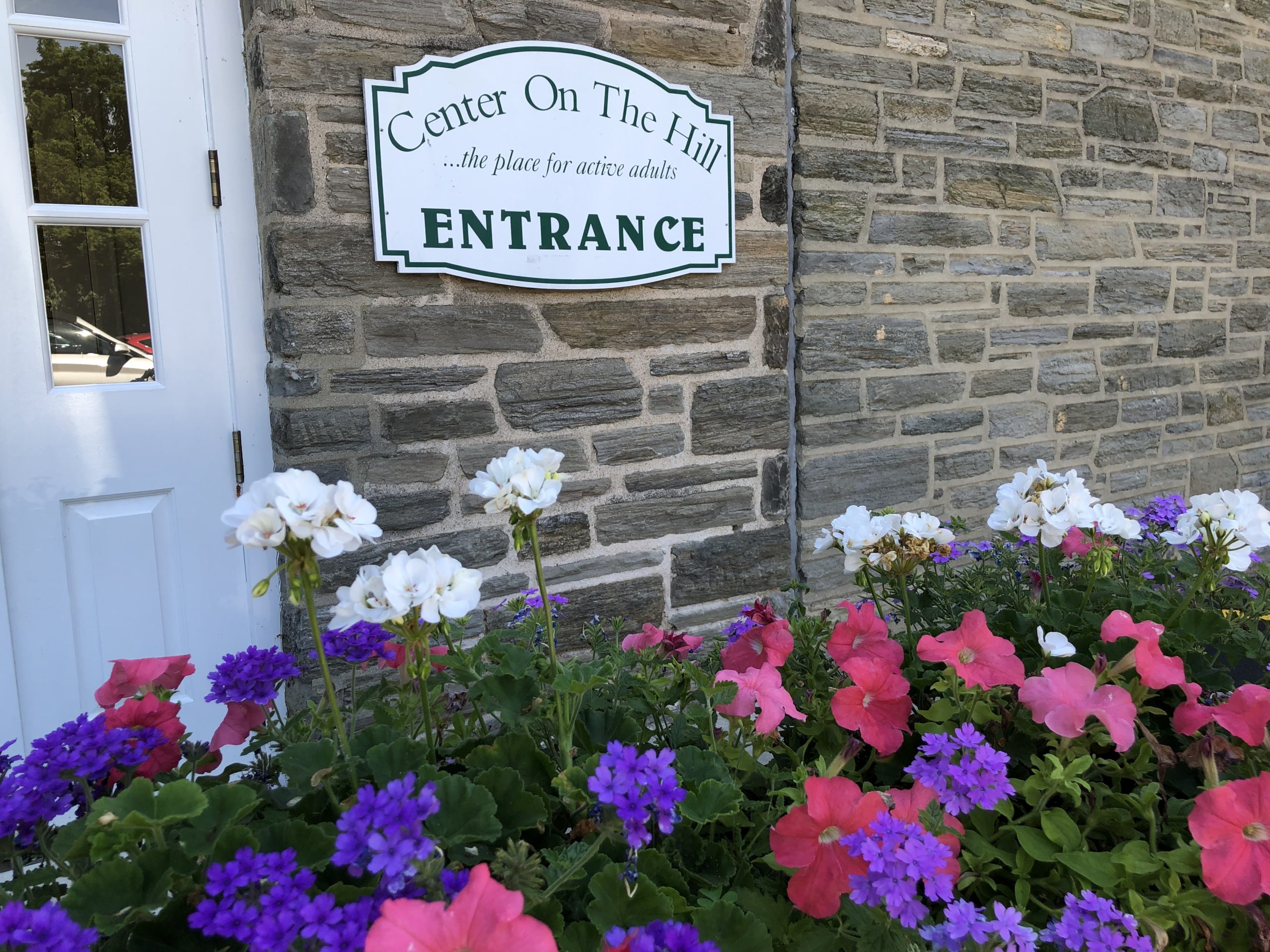 Center on the Hill has returned to ONLINE ONLY activities for people to participate in or watch from home.
New Online Content is posted here daily Mon-Thursday at Noon. Video messages, fitness activities, lectures, games, and much more! CLICK HERE to view the fall schedule of daily postings.
The Center needs your help to continue offering quality programming in the year ahead. Please consider making a contribution to our 2020 Fundraising Campaign. CLICK HERE for more information and to make a donation. We thank you for your support!
Find helpful resources on our web page HERE . Updated regularly with important information and resource links you may need during this time.
NEW! Download and Print our Fall/Winter Cookbook!  Click HERE
To find more links and videos previously posted- CLICK HERE to visit our More Online Programming page where all our posts are archived for easy access. 
---
UPCOMING ONLINE CLASSES & EVENTS:
Registration is Required for real time online participation.
Call 215-247-4654 or email [email protected] to register.
Recorded versions are posted here in the days following the event.
Nutrition and Diabetes Education. Wednesdays, December 2nd and 9th. 12:00pm-1:00pm. FREE. Streamed live online through Zoom. CLICK HERE to join by computer, tablet, smart phone or land line. Recorded sessions will be posted here on Thursdays.
NEW! The Healthy Brain Thursday, December 3rd 11am – 12:00pm Free
Presented on Zoom to join/watch from home by computer or Phone. Brain Health and Heart Health are very similar but most of us do not think about brain Health. Age and health are often dependent on your genes but lifestyle choices can help to maintain both a healthy body and brain. As we age there are normal changes affecting your brain but we can still learn new things, create new memories and improve all around wellbeing. There are risks that can be eliminated to support good brain health. The discussion will include tips to enhance brain health and what you can do now to support a healthy brain.
CLICK HERE to watch the How to Use Zoom Tutorial. This Basic Zoom Tutorial shows you how to join a Zoom Meeting/Event from your Computer, Tablet, Cell Phone or how to dial in from a Land Line.
THINGS TO KEEP YOU HEALTHY AND ACTIVE: 
5 Exercises to Improve Your Balance. Click HERE
15 Minute Zumba Gold workout for older adults. Click HERE
Full-Body Gentle Stretch Routine for Older Adults and Beginners. Click HERE
Reminder: You can find more fitness links on our More Online Programming page HERE
---
MESSAGES AND LESSONS FROM OUR INSTRUCTORS:
DID YOU MISS IT? Managing Your Grief over the Holidays Click HERE to watch the recorded presentation by David Stevenson. Questions addressed: What is grief? How will I get through these days without the one I miss so deeply? How do I support those who have lost a loved one through the holidays? How does the pandemic impact my grief, particularly over the holidays and what can I do to manage my grief?
Diabetes and Nutrition Workshop with Kirsten Puskar. Topic: Diabetes, Medications and Complications. Recorded on November 18, 2020. Click HERE to watch.
Watch our WELLNESS FOR EVERYDAY LIVING presentation by Jerri Kohut. Click HERE
It is Open Enrollment time for Medicare. Find out what that means and how our Medicare Counselor Joan can help. Click HERE.
---
ART ACTIVITIES AND LECTURES:
NEW TODAY! A Sketching lesson and exercise drawing teapots. Click HERE
Learn about the brief and controversial career of the renaissance painter- Caravaggio. Click HERE
Try these easy step by step watercolor painting ideas to improve your painting skills. Click HERE
Relaxing demonstration of how to make abstract art using acrylic paints. Click HERE
---
WATCH AND LEARN PRESENTATIONS:
Watch and learn about Gordon Ramsay's Simple Holiday Recipes and get cooking today! Click HERE
REACHING NEW HEIGHTS! Cirque du Soleil performances from their shows LUZIA, CORTEO, and VOLTA. Click HERE
Watch and learn about the history of the "Gentle Wissahickon" Valley Park in this short documentary. Click HERE
---
VIRTUAL TOURS- PLACES YOU CAN VISIT TODAY:
NEW TODAY! Visit Venice, Italy on this short Virtual Tour with Narration. Click HERE
Visit Sicily by exploring this series of panoramic photographs and videos from around the Italian island. Click HERE
Travel to Greenland, the land of ice, in this stunning video. Click HERE
---
GAMES, CRAFTS AND ACTIVITIES:
Learn how to make an Origami Turkey out of paper. Click HERE
Have some fun and test your brain with these word search games. Click HERE
Beautiful Way To Preserve and Use Colorful Autumn Leaves with this easy fall leaf craft. Click HERE
Get baking today, with some of these easy baking ideas and short cuts. Click HERE
---
FUN INTERACTIVE GAMES:
Play our new interactive Game QUIZZLE & SCATERBRAINZ! Round 3: Click HERE   Rounds 1- 2 can be found HERE. Answers posted every 4 rounds. (*Honor system no using the internet to find answers.) Email [email protected] your answers to be entered to win small prizes.
Tell me something good! (with Special GUESTS!) All episodes (1-39) are HERE Watch the videos and share your thoughts with us. Join the Conversation! 
---
MORE INFORMATION:
Visit and subscribe to our YouTube Channel anytime by clicking HERE or visit our Facebook page (click HERE) for more links and to stay in touch!
To be added to our mailing list for bi-weekly emails or for more information, please contact Mariangela Saavedra, Director, at 215.247.4654 or [email protected]
For a complete list of programs, read the most recent issue of At the Center of Things, the newsletter of Center on the Hill. Download our latest newsletter of activities by [clicking here].