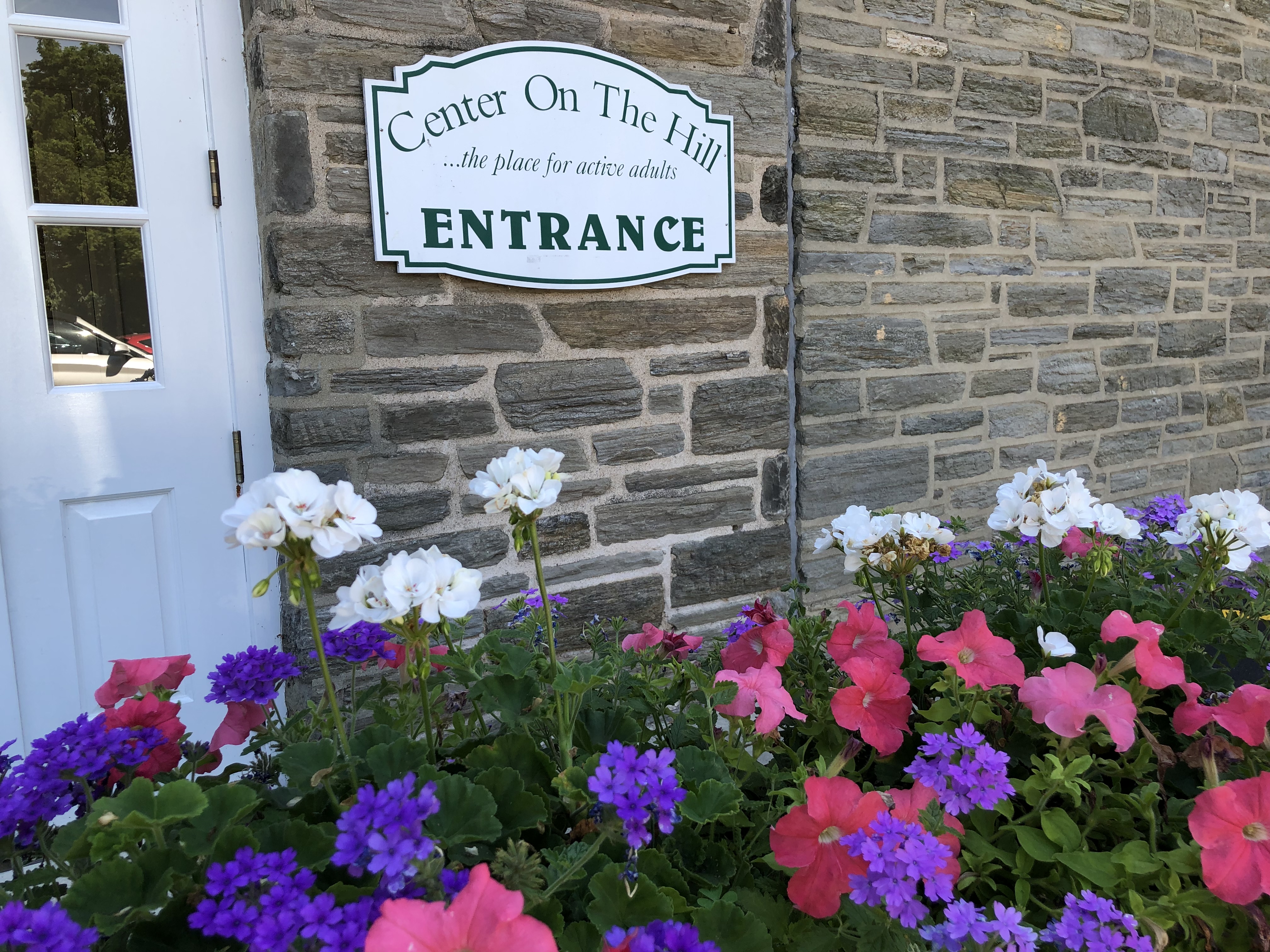 The Center on the Hill is currently CLOSED. Click HERE to read our full statement on the closing. For the latest updates call 215-247-4654
New Online Content is posted here daily Mon-Fri at Noon. Video messages, fitness activities, lectures, games, and much more! Our Facebook page (click HERE) is also very active. Visit us often for updated links and to stay in touch!
CLICK HERE to view the full schedule of daily postings.
To find more links and videos previously posted- CLICK HERE to visit our More Online Programming page where all our posts are archived for easy access.
---
COMMUNITY RESOURCES AND SPECIAL EVENTS:
Find helpful resources on our web page HERE . Updated regularly with important information and resource links you may need during this time.
SPECIAL ONLINE EVENT! WEDNESDAY July 8th- 12:00pm- Nutrition Workshop for Managing Diabetes and Weight with Kirsten Puskar. FREE on Zoom. Click HERE  for information on how to join the workshop from your Computer, Tablet, Smart Phone or Landline.
CLICK HERE to watch the How to Use Zoom Tutorial. This Basic Zoom Tutorial shows you how to join a Zoom Meeting/Event from your Computer, Tablet, Cell Phone or how to dial in from a Land Line.
THINGS TO KEEP YOU HEALTHY AND ACTIVE:
A great 7 minute Yoga Workout for older adults you can do at home today! Click HERE
Tai Chi for Beginners is a great way to get moving, feel healthy and ease into your day. Click HERE
Strength Training for older Adults. Click HERE
Fun 25 min low impact Aerobics! Click HERE
Reminder: You can find more fitness links on our More Online Programming page HERE
---
MESSAGES AND LESSONS FROM OUR INSTRUCTORS:
Nutrition Workshop for Managing Diabetes and Weight with Kirsten Puskar. Watch the recorded July 1st Workshop today. Click HERE Topic: Diabetes Facts vs Myths (Join us on Wednesdays for workshops with Kirsten live on Zoom. Information above under community resources)
More Qigong with our instructor Michael McCormack. Click HERE Qigong has wide-ranging benefits, including improving balance, lowering blood pressure and even easing depression.
---
ART ACTIVITIES AND LECTURES:
NEW TODAY! Visit Princeton University Art Museum for FREE Art Classes and events you can participate in online! Click HERE
The basics of how to sketch and shade with pencil. Click HERE
A fascinating interview with Contemporary Artist Cecily Brown. Click HERE
---
WATCH AND LEARN PRESENTATIONS:
Do you know what happens to your recyclables after you put them in the bin and they get picked up? Learn about it today! Click HERE
Learn how to find your core values, and what matters most to you, so you can apply it to various aspects of your life. Click HERE to try it with Mariangela as she is lead through a Values Mining exercise. 
An Equal Chance (1855-1871) – Click HERE to watch this episode of Philadelphia: The Great Experiment (New episodes posted weekly. See previously shared episodes on our other page HERE)
---
VIRTUAL TOURS- PLACES YOU CAN VISIT TODAY:
NEW TODAY! Visit the Webcams at Yellowstone National Park. Watch Old Faithful erupt in real time! Click HERE 
Get lost in our city with these excellent virtual tours on VisitPhilly.com! Click HERE
Visit the live web cams at the Georgia Aquarium. Click HERE
Video Tours of 5 great National Parks! Click HERE to tour Kenai Fjords in Alaska, Volcanoes in Hawaii, Carlsbad Caverns in New Mexico, Bryce Canyon in Utah and Dry Tortugas in Florida.
---
GAMES AND ACTIVITIES:
Play Sudoku online today for free. Click HERE
Learn how to make PLARN (Plastic Yarn) out of grocery bags, so you can use it to crochet or knit fun things. Click HERE
Games of all kinds you can play free online. Card Games, Strategy Games, Word Games, Mahjong and more! Click HERE
---
FUN WAYS FOR YOU TO INTERACT WITH US:
Tri-Bond is BACK! Play Round 1 of Group 3 Click HERE (Email your answers to us after you play. Every correct answer gets you entered to win small prizes when the center re-opens)
Join the conversation and SHARE YOUR thoughts with us- watch Tell me something good! (now with Special GUESTS!)  Episode 28 with Lawton Clites Click HERE  (Episodes 1 – 27 can be found  HERE. )
(The Answers!) Play Rounds 1-6 of Group 3 interactive trivia game *I should have known that…! Click HERE to play. Then Check your answers Click HERE! 
---
MORE INFORMATION:
You can also visit and subscribe to our YouTube Channel anytime by clicking HERE.
To be added to our mailing list for weekly emails while the center is closed or for more information, please contact Mariangela Saavedra, Director, at 215.247.4654 or [email protected]
For a complete list of programs, read the most recent issue of At the Center of Things, the newsletter of Center on the Hill. Download our latest newsletter of activities by [clicking here].