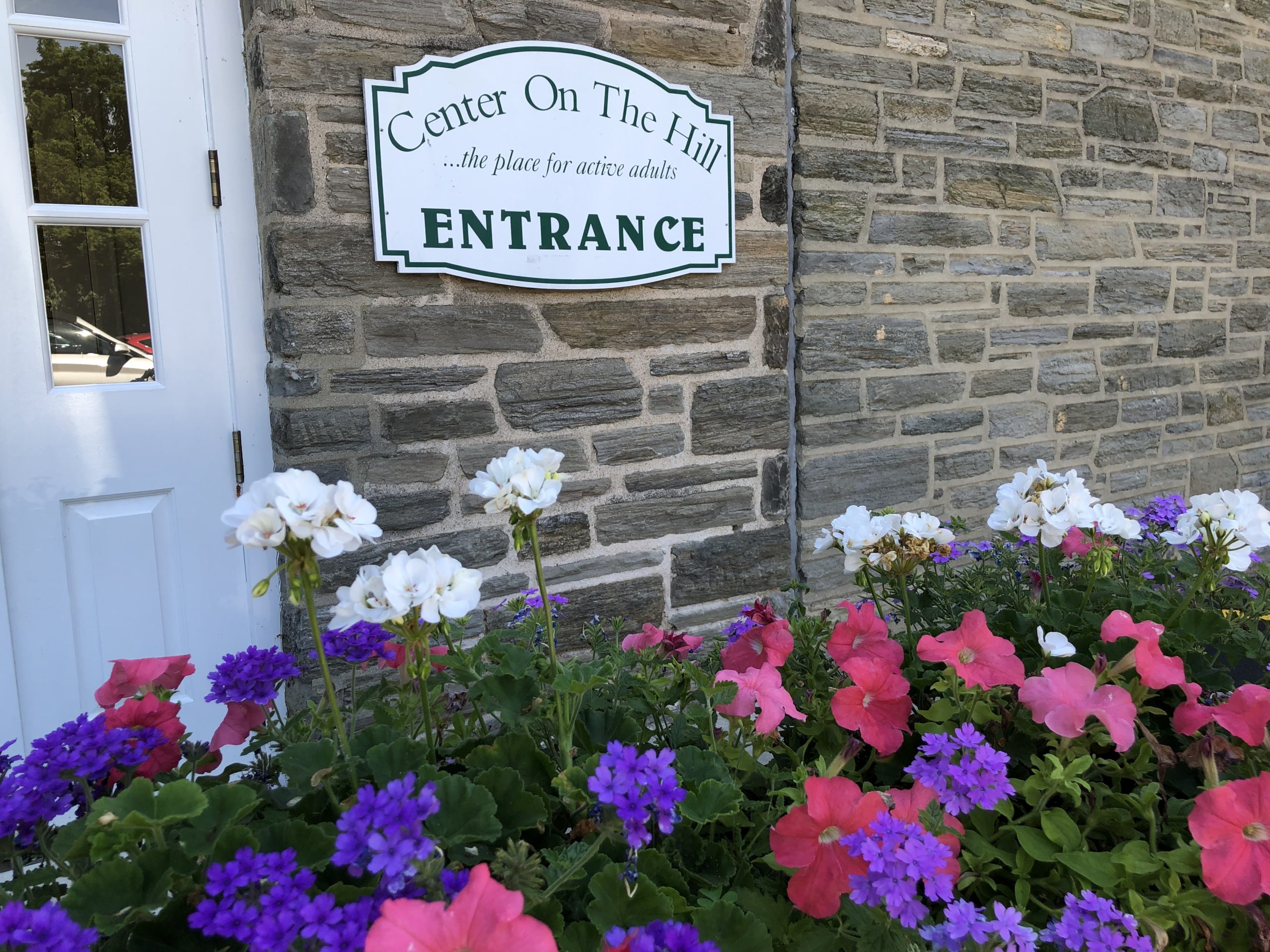 The Center on the Hill is OPEN with all our practices and protocols in place including (sanitation practices, limited number of participants per class, social distancing, and UV air filters).
FUN, FABULOUS, FALL AT THE CENTER! Click HERE to view, download and print our FALL NEWSLETTER full of wonderful programs to participate in at the Center! Registration Required for all classes and events and class/group sizes are limited for social distancing.
New Online Content is posted here daily Monday – Thursday at Noon. Fitness videos, lectures, games, and much more! CLICK HERE to view the schedule of daily postings.
Find helpful resources on our web page HERE . Updated regularly with important information and resource links you may need during this time.
To find more links and videos previously posted- CLICK HERE to visit our More Online Programming page where all our posts are archived for easy access.
PLEASE Help make it possible for us to continue offering our excellent programming at little or no cost to our participants, as well as developing new and engaging activities in the upcoming months. Will you please consider supporting us by donating to our 2022 Annual Campaign? CLICK HERE to make a tax-deductible donation to the center today! We appreciate your support!
---
UPCOMING CLASSES & EVENTS:
Registration Required for all classes and events. Contact 215-247-4654 or email: [email protected] to register. Space in all activities is limited for social distancing. Streamed events are recorded and posted here the next day.
HOW NUTRITION CHANGES AS YOU AGE Thursday, December 1 10:00am- 11:00am FREE
You often hear that eating healthy is extremely important as you age, however, you seldom hear about some of the changes that take place in your body and how those changes can affect your food choices. This program is just one of the many we use to help educate our communities about taking control of their health and wellness. Presented by Tina Jackson from HUMANA, who enjoys sharing ways we all can take control of our Health and Wellness
NORTHWEST ARTISTS ART SHOW & SALE Opening Reception: Friday, December 2, 4pm-8pm: Join us for our opening festivities featuring traditional holiday fare. Regular Gallery and sale hours Monday-Saturdays 10am -4pm December, 2 – 17. We are pleased to host this exhibition from December 2nd to December 17th that features artwork created by the center's own NW Artists. Original paintings, photography, drawings, greeting cards, jewelry, hand crafted candles and more will be on display and for sale. A reception on Friday December 2, including delicious treats and live music, will create a festive gathering sure to provide holiday fun and a unique shopping experience. A percentage of sales supports the Center on the Hill.
AFTERNOON MOVIES Tuesday December 6 showing "Encanto" 1:30pm $2
From Walt Disney Animation Studios' this is the tale of an extraordinary family, the Madrigals, who live hidden in the mountains of Colombia, in a magical house, in a vibrant town, in a wondrous, charmed place called an Encanto. The magic of the Encanto has blessed every child in the family with a unique gift from super strength to the power to heal—every child except one, Mirabel. But when she discovers that the magic surrounding the Encanto is in danger, Mirabel decides that she, the only ordinary Madrigal, might just be her exceptional family's last hope.
THINGS TO KEEP YOU HEALTHY AND ACTIVE:
NEW TODAY! Work off all the delicious foods you over indulged in this Holiday Weekend with this great Cardio & Core Workout! Click HERE
Build Strength with this 12 minute Body Weight Strength Workout. Click HERE
Get moving and improve your balance today, with this 11 min workout. Click HERE
Try this seated Yoga for Pain relief! Click HERE
Reminder: You can find more fitness links on our More Online Programming page HERE
---
PRESENTATIONS FROM OUR INSTRUCTORS AND PARTNERS:
Did You See This? Watch our presentation from FOX Rehab and Sunrise of Lafayette Hill where they talk to us about the importance of being active and staying strong for healthy aging. Click HERE
Watch the presentation by Charlinda Diaz from Forever Home Design, talking about Future Proofing Your Home, so you can love it not leave it! Click HERE
Diabetes & Nutrition Class with Kirsten Puskar! Recorded classes and presentations from the last year can all be watched on our YouTube Channel CLICK HERE
More Lessons and Lectures from our instructors can be found on our More Online Programming Page– Click HERE
---
ART ACTIVITIES AND LECTURES:
Learn about art from the Netherlands in this fasinating lecture from the museum of fine arts in Boston. Click HERE
Watch and Learn how to paint a beautiful forest with acrylic paints, in this tutorial for beginners. Click HERE
From the Chicago Museum of Art, learn about Japanese Prints—Hokusai's Fantastic Landscapes Click HERE
More Art Lessons and Lectures can be found on our More Online Programming Page– Click HERE
---
WATCH AND LEARN PRESENTATIONS:
Watch our November Forum on the Hill Speaker: Jane Golden Topic: Mural Arts Philadelphia Click HERE
Learn about New Jersey's most beautiful roadway– The Garden State Parkway. Click HERE
Watch our October Forum on the Hill Speaker: Josh Hitchens Topic: Haunted History of Philadelphia Click HERE
Did you know there is an apartment at the top of the Eifel Tower? Watch and Learn about it today! Click HERE
---
VIRTUAL TOURS- PLACES YOU CAN VISIT TODAY:
Join us on a virtual tour of Vancouver Island in Canada today. Click HERE
Take a virtual tour of the stunning three crowns viewing point in Pieniny, Poland! Click HERE
Visit India today and all its raw beauty. Click HERE
Take a relaxing virtual tour of Mt. St. Helens in Washington State. Click HERE
---
GAMES, CRAFTS AND ACTIVITIES:
Challenge yourself with these brain boosting crossword puzzles from Arkadium! Click HERE
Get cooking for the holidays with these easy and delicious recipes. Click HERE
As Thanksgiving approaches, get CRAFTING with these fun and lovely ideas to brighten your home and make your gatherings festive! Click HERE
Test your word skills with this great Anagram Crossword Puzzle Game. Click HERE
---
---
MORE INFORMATION:
Visit and subscribe to our YouTube Channel anytime by clicking HERE or visit our Facebook page (click HERE) for more links and to stay in touch!
To be added to our mailing list for bi-weekly emails or for more information, please contact Mariangela Saavedra, Director, at 215.247.4654 or [email protected]
For a complete list of programs, read the most recent issue of At the Center of Things, the newsletter of Center on the Hill. Download our latest newsletter of activities by [clicking here].