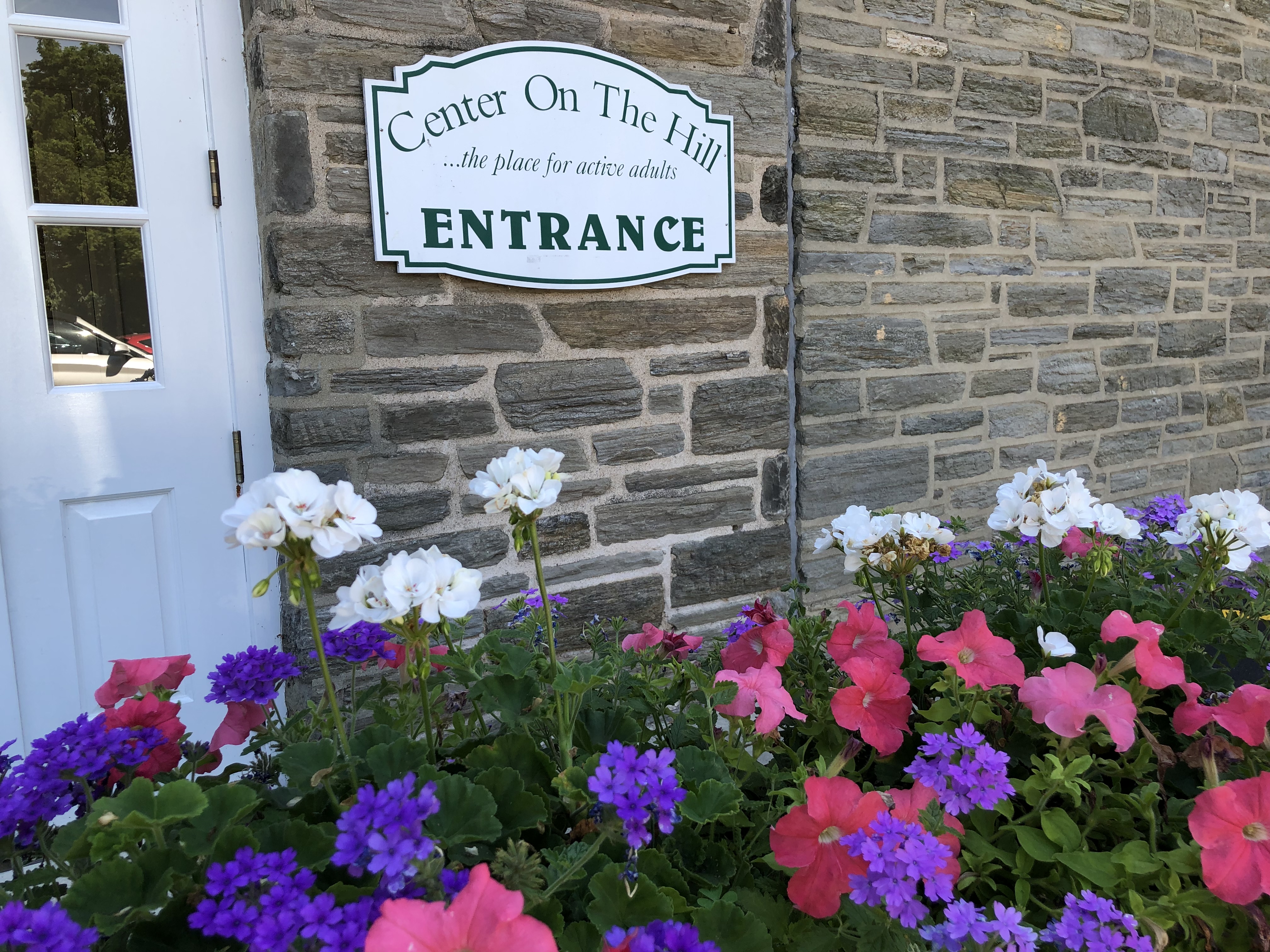 PLEASE NOTE: The Center on the Hill is currently CLOSED. Click HERE to read our full statement on the closing. For the latest updates call 215-247-4654 
New Content is posted here daily Mon-Fri at Noon. Video messages from our staff and instructors, fitness activities and games you can play at home, and much more. Our Facebook page (click HERE) is also very active during this time. Visit us there and here often for updated links and to stay in touch with us!
CLICK HERE to see a full schedule of new online content you will find on this page while the center is closed.
THINGS TO KEEP YOU HEALTHY AND ACTIVE: 
New Today! 20 min ZUMBA Gold in a Chair workout with our instructor Christine! Click HERE
A 20 min strength work out for older adults, you can do from home! Click HERE
Golden Yoga- A New 40 min Video work out from instructor Barbara Levitt (Filmed in her living room, so you can do it in yours) Click HERE
6 minutes of Qigong with our instructor Michael . Improve your balance, lower  blood pressure, ease stress. Click HERE
Instructor Judy Dobbs shows us how to relax and reduce pain and stress  with Reflexology in this video. Click HERE
Chair Pilates with Michelle Olowolafe: Click HERE
MESSAGES FROM OUR INSTRUCTORS:
New Today! A Message and helpful information about staying healthy during this time from our Diabetes Workshop instructor Kirsten Puskar. Click HERE
A Message and a song from Julie Snyder, our Strengthening Your Voice teacher. Click HERE
A message from our Medicare Counselor Joan Adler: Click HERE 
A Message from our Learning to Look at Art instructor Suzanne Fitzpatrick. Click HERE
A Message from Mejire Arijaje at Synergy Home Care with tips about staying connected using your cell or smart phone.  Click HERE
ART ACTIVITIES AND LESSONS:
Watch a introduction video on how to paint with with watercolors. Click HERE
Now go find those watercolors and brushes you forgot you had and give it a try!
Learning to Look at Art with Suzanne Fitzpatrick: The Banjo Lesson. Click HERE 
Fun and easy craft ideas for adults. Click HERE
Fun drawing games you can play at home to stay creative. Click HERE
WATCH AND LEARN PRESENTATIONS:
Lecturer and Librarian Margaret Montet presents her popular short lecture  "Fighting Fake News" Click HERE to watch
VIRTUAL TOURS- PLACES YOU CAN VISIT TODAY:
Take an interactive virtual tour of the ancient city of Petra in Jordan. After entering the tour, use the map on the right side of the screen to jump to different places around the archaeological site. Click HERE
Watch the Animals at the Monterey Bay Aquarium on the webcams. (I recommend the Coral Reef and the Jellyfish Cams) Click HERE
Tour some exhibits at the Louvre. Choose from 4 Virtual Tours. Click HERE
Take a Virtual Tour of the Sistine Chapel. Click HERE
GAMES TO PLAY AT HOME:
New Today! Check out this list of the 13 best single player card games and how to play them. Click HERE
Learn to play the 2 player card game GOLF. Click HERE
Learn to Play Solitaire: Click HERE
FUN WAYS FOR YOU TO INTERACT WITH US:
Play Round 4 of Famous Movie Quotes with us! Click HERE . (or Click HERE to play rounds 1, 2 & 3.) Post your answers in the comments of the video or email them to the Center ([email protected]) to be entered in our drawings for fun small prizes when the center re-opens. Every correct answer gets your name entered in again. *honor system- no using the internet to look up the answers* (Final round  will be posted on Tuesday April 7th and the answers on Thursday April 9th.) 
New Today! Join the conversation and SHARE YOUR thoughts and experiences with us- Storywise- Tell me something good.  Episode 5 with Mariangela is online now HERE.  (Episodes 1, 2, 3, & 4 can be found  HERE.) (Final New Episode in this series will be posted Friday April 10th)
MORE INFORMATION:
You can also visit our YouTube Channel anytime by clicking HERE. It has some of the messages, and videos we have shared above on it, and is updated regularly.
For a complete list of programs, read the most recent issue of At the Center of Things, the newsletter of Center on the Hill. Download our latest newsletter of activities by [clicking here].
To get on the mailing list for Center on the Hill or to register for any program, please contact Mariangela  Saavedra, Director, at 215.247.4654 or [email protected]