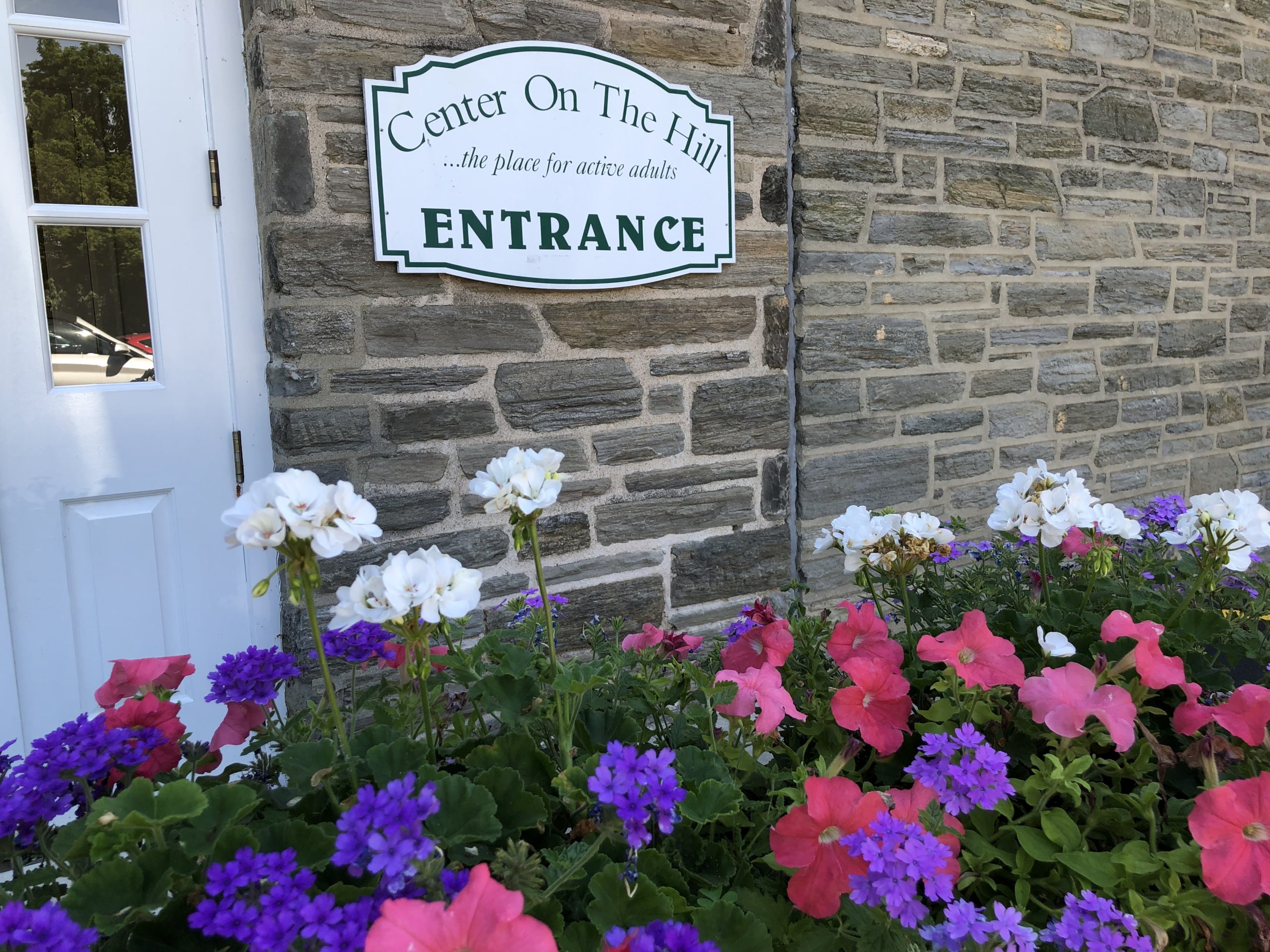 The Center on the Hill is OPEN Monday- Friday 9am-5pm with all our practices and protocols in place including (sanitation practices, limited number of participants per class, social distancing, and UV air filters).
THE FALL NEWSLETTER HAS ARRIVED! Click HERE to view, download and print your copy today!
New Online Content is posted here daily Monday – Thursday at Noon. Fitness videos, lectures, games, and much more! CLICK HERE to view the schedule of daily postings.
Find helpful resources on our web page HERE . Updated regularly with important information and resource links you may need during this time.
To find more links and videos previously posted- CLICK HERE to visit our More Online Programming page where all our posts are archived for easy access. 
---
UPCOMING CLASSES & EVENTS:
Registration Required for all classes and events. Contact 215-247-4654 or email: msaavedra@chestnuthillpres.org to register.  Space in all activities is limited for social distancing. Some events are recorded and posted here the following week on Tuesdays.
LEARN AND PLAY CROQUET  Tuesdays, October 3, and October 10 (Weather Permitting)  10:30am-12:00pm  FREE  Croquet is a sport that involves hitting wooden balls with a mallet through hoops (called "wickets") embedded in a grass playing court. Join us outside on the Lawn to play American Nine-Wicket aka "Backyard" Croquet. This is a fun and engaging way to get some fresh air and exercise while playing a competitive lawn game! No experience necessary, all players welcome.
LEARN TO PLAY RUMMY TILES  Wednesday, October 4  10:30am-12:30pm  FREE
Rummy Tiles (aka Rummikub) is one of the world's best-selling and most-played games.
Players take turns placing numbered tiles in runs or groups, Rummy style – the first player to use all of their tiles wins. Fast-paced, easy gameplay for 2 to 4 players, combining elements of the card game rummy and mahjong. Come learn how to play and then return ongoing for Open Play!
AVOIDING MEDICARE SCAMS  Thursday, October 5  11:00am- 12:00pm  FREE  Presented in person, and recorded to be shared online the following week.  Your Medicare card is a valuable resource and your number should be protected. There a many scams trying to get your number to defraud Medicare. Joan Adler is a Medicare Counselor and a volunteer for the Senior Medicare Patrol, which investigates issues of Medicare Fraud and Abuse. We will also discuss other types of scams and how to protect yourself.
BEADING STRETCH BRACELETS  Thursday, October 5th  1:00pm- 3:00pm  $15 includes all beads and materials.  Materials for 2 bracelets included.  Just in time for the Holidays, come learn how to make beautiful stretch bracelets using precious stone, ceramic, glass, and crafted beads. Create fantastic works of art you can wear on your wrist. Fun and easy you will enjoy picking out your favorite beads to include in your creation and then string them together to make a wonderful gift, or keep it for yourself. All Materials for two bracelets included in cost of the class. Additional materials can be purchased to make more if you want for $5 each additional bracelet.
---
THINGS TO KEEP YOU HEALTHY AND ACTIVE: 
NEW TODAY! Do some Yoga today to improve your full body strength. Click HERE
15 minute fun Zumba Gold workout to get you moving and grooving today! Click HERE
Walk Strong! Try this great Leg strength workout today from Silver Sneakers. Click HERE
Improve your mobility with this quick workout you can do from home today. Click HERE
Reminder: You can find more fitness links on our More Online Programming page HERE
---
PRESENTATIONS FROM OUR INSTRUCTORS AND PARTNERS:
Lyn is back with another great Travel Talk full of tips for traveling as an older adult. Click HERE
Jerri Kohut from Cathedral Village returns to talk to us abut Injury Prevention. Click HERE
Our friend Lyn from 115 Travel is back to talk about traveling to New England! Click HERE
Our friends at Human Touch Home Care lead an important discussion about Post Lockdown Anxiety. Click Here to watch!
More Lessons and Lectures from our instructors can be found on our More Online Programming Page– Click HERE
---
ART ACTIVITIES AND LECTURES:
Learn how to paint a beautiful sunset sky with Acrylic Paints. Click HERE
Watch and learn about the Hierarchy of  Different Art Genres. Click HERE
Relax your thoughts and create mindful works of art. Learn how in this great tutorial on making relaxing Nerographic works of Art. Click HERE
More Art Lessons and Lectures can be found on our More Art Programs page- Click HERE
---
WATCH AND LEARN PRESENTATIONS:
Do you remember these now defunct retail stores we used to love? Click HERE
Learn about the real history behind the Legend of King Arthur. Click HERE
Discover how different every day common objects were 100 years ago! Click HERE
---
VIRTUAL TOURS- PLACES YOU CAN VISIT TODAY:
Visit NEW ZEALAND today on this great virtual tour! Click HERE
Take a tour around beautiful Honolulu, Hawaii today! Click HERE
It is almost Fall at Chanticleer Gardens. Enjoy this Tour from September 8th. Click HERE
---
GAMES, CRAFTS AND ACTIVITIES:
Did You See This? 4 easy and comforting Fall recipes to try this month! Click HERE
Test your brain. Try this picture memory game free online. Click HERE
It's time to get gardening this FALL! Learn about these 9 fast growing crops you can grow in September and October! Click HERE
---
MORE INFORMATION:
Visit and subscribe to our YouTube Channel anytime by clicking HERE or visit our Facebook page (click HERE) for more links and to stay in touch!
To be added to our mailing list for bi-weekly emails or for more information, please contact Mariangela  Saavedra, Director, at 215.247.4654 or msaavedra@chestnuthillpres.org.
For a complete list of programs, read the most recent issue of At the Center of Things, the newsletter of Center on the Hill. Download our latest newsletter of activities by [clicking here].