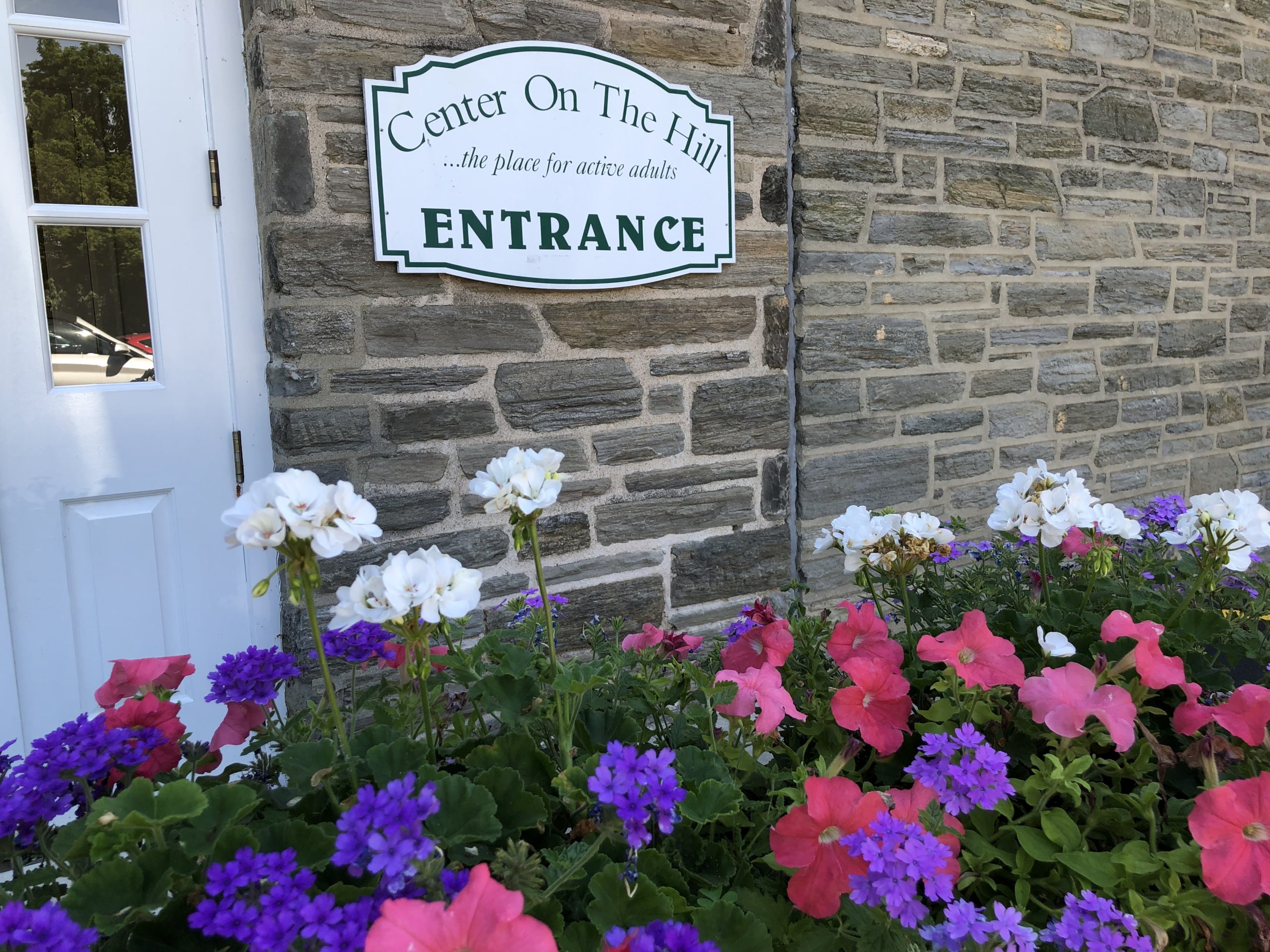 Center on the Hill is now OPEN for in-person activities (both inside and outside, with protocols in place), as well as a variety of things you can still enjoy online from home!
New Online Content is posted here daily Monday – Thursday at Noon. Fitness videos, lectures, games, and much more! CLICK HERE to view the schedule of daily postings.
Find helpful resources on our web page HERE . Updated regularly with important information and resource links you may need during this time.
To find more links and videos previously posted- CLICK HERE to visit our More Online Programming page where all our posts are archived for easy access.
---
UPCOMING CLASSES & EVENTS:
REGISTRATION REQUIRED for participation in all classes and events.
Click HERE for the FULL Summer Schedule of ongoing events and classes in person at the center this July and August.
DIABETES and NUTRITION WORKSHOP Wednesdays, August 4 & 11 1:00pm – 2:00pm FREE
You can live well with diabetes, pre-diabetes or other chronic disease including obesity with the most nutritious diet. Certified diabetes educator Kirsten Puskar, RDN, CDCES, will help you understand managing your diet and diabetes to stay healthy. All are welcome to take part in her interactive discussions, where participants learn what it takes to maintain a healthy lifestyle.
SKETCHING AND WATERCOLOR Mondays or Tuesdays, join at any time 9:30am – 11:30am $32 per month Enjoy sketching and watercolor painting in a relaxed class. A variety of mediums will be demonstrated and still life's and photographs will be used. This drawing and watercolor painting class is for people of all abilities. Instructor Alex Forbes has been teaching classes in the Chestnut Hill area for the past twenty-six years. He has also taught illustration at The Hussian School of Art in Philadelphia. Alex is an accomplished artist who exhibits at the Chestnut Hill Gallery and has held several of his own local exhibits.
GOLDEN YOGA Wednesdays, start at any time 3:00pm- 4:00pm $10 per class, $35 for 4 Classes, $85 for 10 classes
Golden Yoga is a classical yoga, adapted by the SKY Foundation, to accommodate those who have difficulty getting up and down from the floor. The practices include stretching, breathing, relaxation, and meditation techniques – all done while sitting in a chair or standing. Barbara Levitt, author of Golden Yoga: You Can Do It, has practiced and taught Classical Yoga under the direction of Dr. Vijayendra Pratap for more than forty-five years.
THINGS TO KEEP YOU HEALTHY AND ACTIVE: 
Did You See This? 10 min Outdoor Cardio Workout for Older Adults. (Can be done inside too!) Click HERE
Five great exercises to help with Back Pain. Click HERE
5 Exercises to stabilize your core and tone your stomach. Click HERE
Reminder: You can find more fitness links on our More Online Programming page HERE
---
CLASSES AND LECURES FROM OUR INSTRUCTORS AND PARTNERS:
Watch and learn about Online Safety: Avoiding Internet and Phone Scams from our friends at Salus University. Click HERE Then download and print the Handout for reference. Click HERE
Learn all about Improving Your Sleep Habits Click HERE to watch. Download the Hand Out HERE.
Diabetes & Nutrition Class with Kirsten Puskar! Recorded classes and presentations from the last year can all be watched on our YouTube Channel CLICK HERE
---
ART ACTIVITIES AND LECTURES:
How to paint beautiful Watercolor Bumble Bees and Lavender. Click HERE
Watch this Beginners Guide To Doing Calligraphy with a Pencil. Click HERE
Enjoy this short lecture about Hans Zatzka's painting – A Unique Fantasy World. Click HERE
---
WATCH AND LEARN PRESENTATIONS:
Did You See This? Enjoy this A, B, Circus! Episode, The History of Balancing Acts from Cirque du Soleil. Click HERE
Watch and Learn about the 1960 Campion Philadelphia Eagles! Click HERE
How to create stunning garden borders with these essential tips. Click HERE
---
VIRTUAL TOURS- PLACES YOU CAN VISIT TODAY:
Did You See This? Take a Guided Virtual Tour of Mt. Rushmore today! Click HERE
Take a Virtual Tour of the RMS Titanic, thanks to digital recreations from blueprints, and maps made from the wreckage. Click HERE
Take a Virtual Tour of the Terracotta Warriors in China. Click HERE  Be sure to use your mouse to move around and explore these fascinating statues unearthed.
---
GAMES, CRAFTS AND ACTIVITIES:
NEW TODAY! 58 fun Summer Craft Ideas to keep you creative this season! Click HERE
5 easy Summer Meals you can make. Click HERE
Become a better writer with these 10 writing exercises for adults. Click HERE
Check out some great ideas for Crafts you can do with items found at the Dollar Store! Click HERE
---
FUN INTERACTIVE GAMES:
ALL THE ANSWERS to our Final Interactive Game: Rational Thinking! Click HERE
Tell Me Something Good! (with Special GUESTS!) All episodes (1-39) are HERE Watch the videos and share your thoughts with us. Join the Conversation! 
---
MORE INFORMATION:
Visit and subscribe to our YouTube Channel anytime by clicking HERE or visit our Facebook page (click HERE) for more links and to stay in touch!
To be added to our mailing list for bi-weekly emails or for more information, please contact Mariangela Saavedra, Director, at 215.247.4654 or [email protected]
For a complete list of programs, read the most recent issue of At the Center of Things, the newsletter of Center on the Hill. Download our latest newsletter of activities by [clicking here].