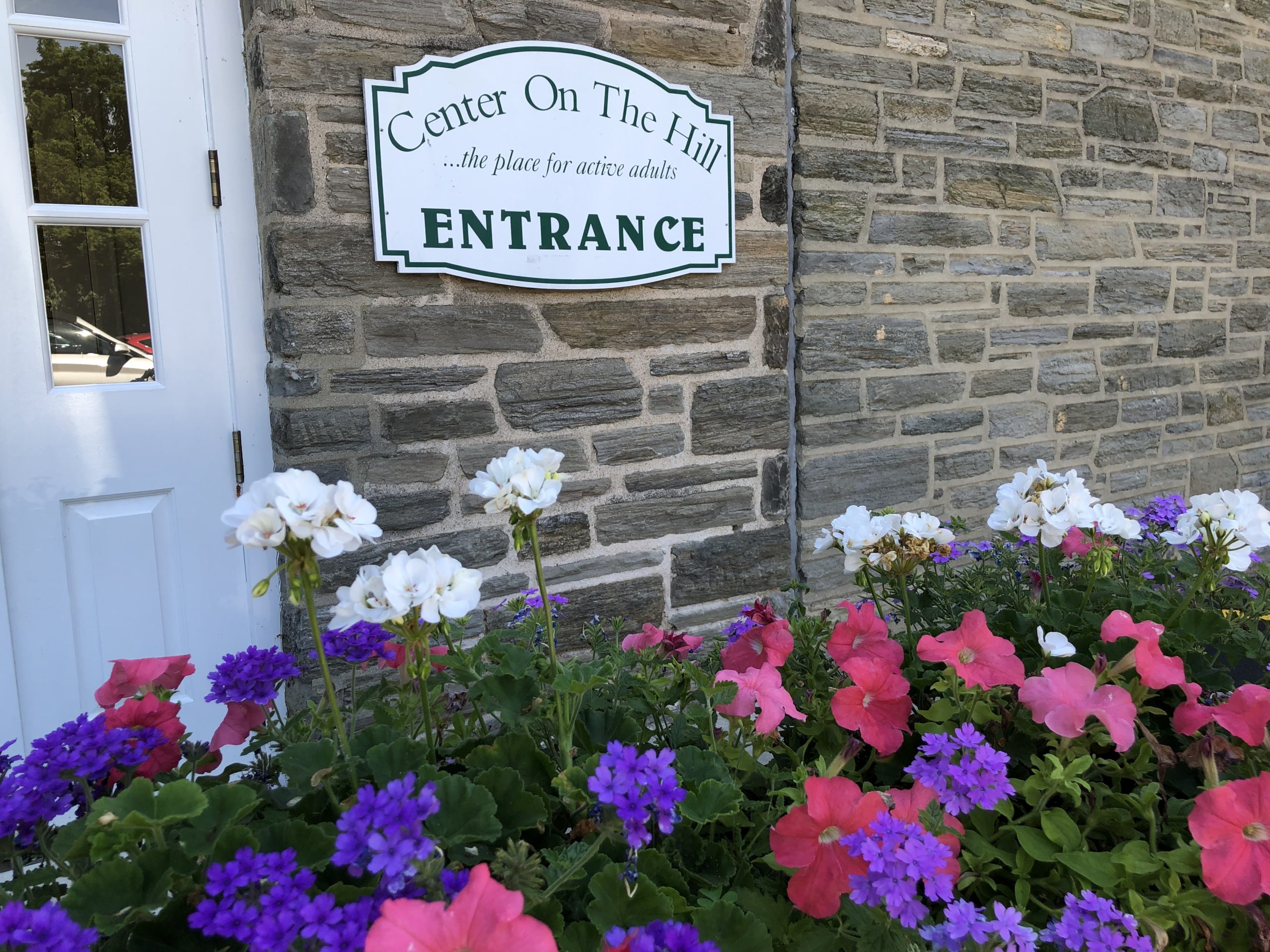 The Center on the Hill is OPEN with all our practices and protocols in place including (sanitation practices, limited number of participants per class, social distancing, and UV air filters).
THE SPRING NEWSLETTER IS HERE! Click HERE to view, download and print our Spring Schedule of events, classes and groups! Registration is now open and class/group sizes are limited. Register early for things you want to attend.
New Online Content is posted here daily Monday – Thursday at Noon. Fitness videos, lectures, games, and much more! CLICK HERE to view the schedule of daily postings.
Find helpful resources on our web page HERE . Updated regularly with important information and resource links you may need during this time.
To find more links and videos previously posted- CLICK HERE to visit our More Online Programming page where all our posts are archived for easy access.
---
UPCOMING CLASSES & EVENTS:
Registration Required for all classes and events. Contact 215-247-4654 or email: [email protected] to register. Space in all activities is limited for social distancing. Streamed events are recorded and posted here the next day.
CLASSIC TABLE GAMES: OPEN PLAY Mondays, ongoing 12:00pm-2:00pm $2
Playing table games are proven to stimulate brain areas that are responsible for memory formation and complex thought processes in all ages. Join us on Mondays for casual and fun Open Play of classic table games. Bring your own favorite game to play, or choose from ones we have here at the Center like Clue, Parchisi, Boggle, Phase 10, Scatergories, Dominos, Monopoly and more.
"DO I STAY OR DO I GO" Thursday, May 19 11:00am-12:00pm FREE
Presentation will be recorded and posted online on May 24th.
Most all of us will have to make a decision as we age whether to remain in our own homes, or move into a continuous care retirement community. This workshop is designed to answer your questions and give you the facts and information you need to make the decision that is best for you. Come join us and find some answers. Bring your questions with you to this workshop, presented by Bess Wray, Owner, Human Touch Home Care, ltd., and Judy Dorshimer, a retired RN with first hand knowledge of CCRC's
Traveling in the US by Riverboat and Railways Thursday, May 26 11:00am-12:00pm FREE
Learn about ways to Travel on Riverboats and the Rocky Mountaineer Railways. Each of these types of vacation travel showcase our United States. American Queen Riverboat Cruises–Cruising on our world-class ships, enjoy comfortable lounges and large observation decks that provide the perfect place for guests to relax and enjoy the company of fellow travelers who share their interest in American heritage. Rocky Mountaineer Railways–Journey through two days of extraordinary landscapes between Moab, Utah and Denver, Colorado. Vast canyons, inspiring deserts, natural archways and enchanting hoodoos are just a start.
THINGS TO KEEP YOU HEALTHY AND ACTIVE: 
Did You See This? Enjoy 15 Minutes of Yoga Flow today, to stay limber, strong and feel good! Click HERE
This Upper Body stretch routine will get you loose today! Click HERE
Give your abs a workout today with this great seated abdominal workout. Click HERE
Try these easy and great stretches to relieve back pain. Click HERE
Reminder: You can find more fitness links on our More Online Programming page HERE
---
CLASSES AND LECURES FROM OUR INSTRUCTORS AND PARTNERS:
Enjoy this presentation from Lyn at 115 Travel, about traveling to Iceland or Africa. Click HERE
Watch and Learn about The Art of Mindfulness. Presented by our friends at Cathedral Village. Click HERE
Watch and learn about Online Safety: Avoiding Internet and Phone Scams from our friends at Salus University. Click HERE Then download and print the Handout for reference. Click HERE
Diabetes & Nutrition Class with Kirsten Puskar! Recorded classes and presentations from the last year can all be watched on our YouTube Channel CLICK HERE
More Lessons and Lectures from our instructors can be found on our More Online Programming Page– Click HERE
---
ART ACTIVITIES AND LECTURES:
Watch How to Paint a Still Life with Watercolors – A Step-by-step Guide. Click HERE
Enjoy this lecture from the Boston Museum of Fine Arts about these rare, lesser known Leonardo Da Vinci Paintings. Click HERE
Have you always wanted to paint but don't know how to start? This Ultimate Beginners Guide to Start Painting is just what you need to watch! Click HERE
Watch and Learn how to make lovely Mosaic Art at home. Click HERE
More Art Lessons and Lectures can be found on our More Online Programming Page– Click HERE
---
WATCH AND LEARN PRESENTATIONS:
NEW TODAY! Watch our May Forum on the Hill Speaker: Rev. Dr. Beth Shalom Hessel  Topic: The Right to Be American: Japanese Americans and World War II  Click HERE

Watch and Learn about the Men who built America during the Guided Age, in this great episode from The History Channel. Click HERE
Learn about Decreasing Stress through Lifestyle Restructuring from our friends at Salus University's Occupational Therapy Department. Click HERE
Watch our "Senior Living Options: What you need to know and more" Lecture presented by our friends at The Residence at Bala Cynwyd. Click HERE
---
VIRTUAL TOURS- PLACES YOU CAN VISIT TODAY:
Visit the Tower of London, on this HD Virtual Walking Tour. Click HERE
Take a stunning virtual tour of Italy. Click HERE
Visit Los Angeles, California today from home. Click HERE
Washington, DC or Seattle, Washington – which city do you want to visit today? Why not both? Click HERE
---
GAMES, CRAFTS AND ACTIVITIES:
Did You See This? Trying to drink less soda? Try these great refreshing Spring/Summer (non-alcoholic) drinks you can make at home! Click HERE
Workout your brain today, and try this online version of Chinese Checkers! Click HERE
Learn how to make pretty jewelry with beads. Click HERE
---
FUN INTERACTIVE GAMES:
Tell Me Something Good! (with Special GUESTS!) All episodes (1-39) are HERE Watch the videos and share your thoughts with us. Join the Conversation!
All our Interactive Trivia Games from the past year and a half, you can play from home for fun:
*Answer videos included in each playlist, as we are no longer accepting answers in real time since these games have now ended.
---
MORE INFORMATION:
Visit and subscribe to our YouTube Channel anytime by clicking HERE or visit our Facebook page (click HERE) for more links and to stay in touch!
To be added to our mailing list for bi-weekly emails or for more information, please contact Mariangela Saavedra, Director, at 215.247.4654 or [email protected]
For a complete list of programs, read the most recent issue of At the Center of Things, the newsletter of Center on the Hill. Download our latest newsletter of activities by [clicking here].