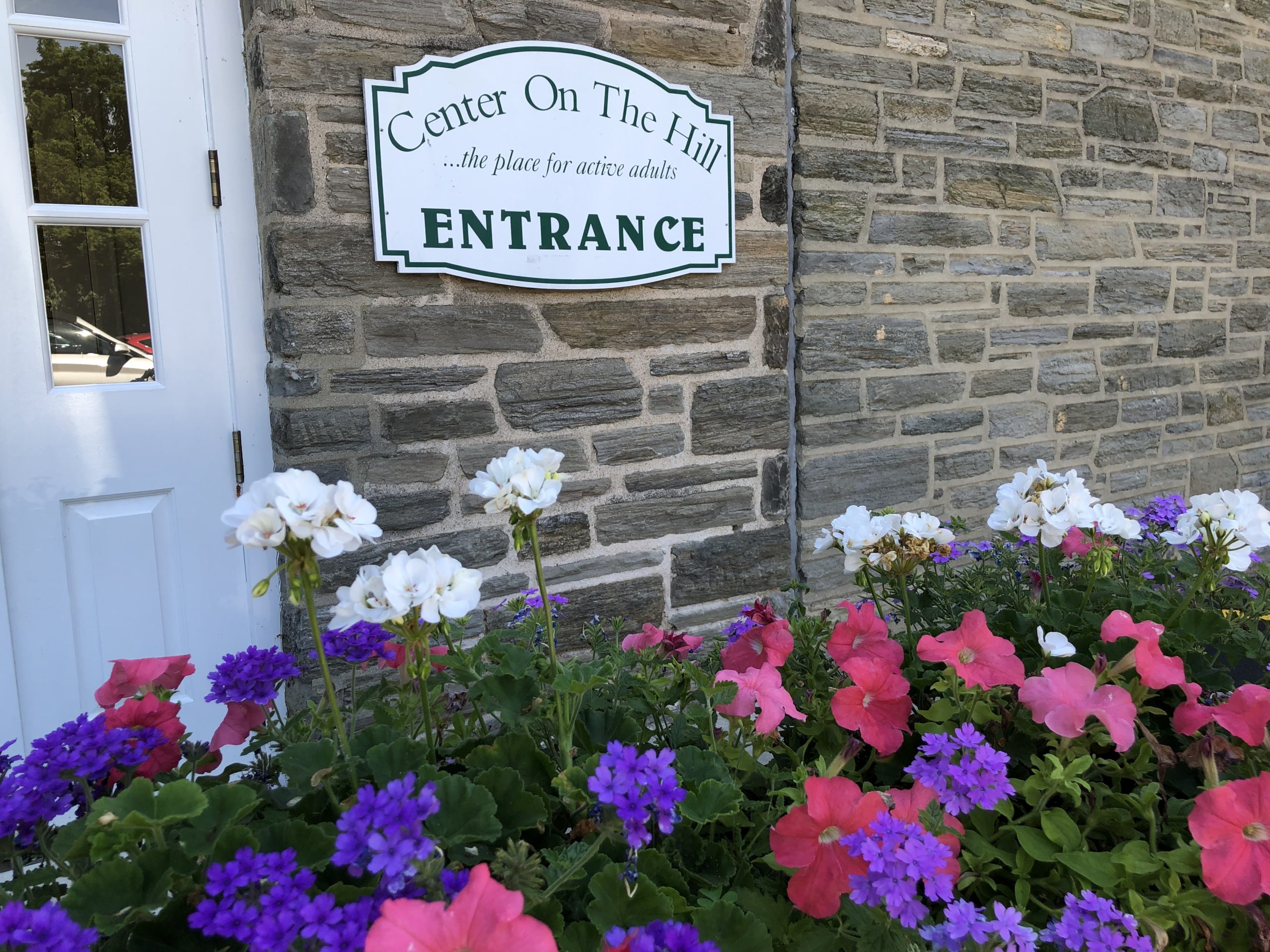 Center on the Hill is OPEN for in-person activities (both inside and outside, with protocols in place), as well as a variety of things you can still enjoy online from home!
Our FALL NEWSLETTER IS HERE! Click HERE to view, Download and Print out the full Fall season of offerings!
New Online Content is posted here daily Monday – Thursday at Noon. Fitness videos, lectures, games, and much more! CLICK HERE to view the schedule of daily postings.
Find helpful resources on our web page HERE . Updated regularly with important information and resource links you may need during this time.
To find more links and videos previously posted- CLICK HERE to visit our More Online Programming page where all our posts are archived for easy access.
Mt. Airy Learning Tree is offering Tai Chi, Watercolor, Computer, Decluttering, and Estate Planning classes here at the Center this Fall. CLICK HERE for more information about these classes.
---
UPCOMING CLASSES & EVENTS:
Registration Required for all classes and events you plan to attend in person. Contact 215-247-4654 or email: [email protected] to register.
Streamed events are recorded and posted here then next day, with the exception of the Forum on the Hill which is live streamed on the Forum page HERE.
Learn and Play Croquet September 28 @ 10:30am – Back by Popular Demand- join us for a fun and engaging way to get some fresh air and exercise while learning a new sport! Open Play dates follow the formal class dates in October.
Beginning Bridge Lessons Wednesdays, September 29-November 17 @ 1:30 p.m.–3:30 p.m. $80 for 8 classes
Registration Deadline: Monday September 27th –The game of bridge is a lot of fun. In addition, studies have shown that playing bridge keeps your mind sharp and reduces the chance of Alzheimer's disease. This class assumes no prior knowledge of bridge. Bring pencil and paper.
Love Lost and Found Sept 30-Oct 28 @2:00pm – Join us in LOVE LOST & FOUND, a workshop created for a special purpose: to explore love in all its facets — at all ages. Share your personal true life/true love stories, those of your friends, family and colleagues to provide the heart and soul of the Philadelphia version of a unique, interactive play.
Keys to Posture and Balance October 4 & 11 @1:00pm– It is extremely important to maintain good posture to support our health and minimize structural discomforts. In the aging process, alignment and balance can become challenged. This class will give foundational guidelines to maintain postural alignment and increase balance efficiency
THINGS TO KEEP YOU HEALTHY AND ACTIVE: 
Did You See This? Try these Quick Drills to stimulate your brain and improve brain health. Click HERE
10 Min Seated Core Workout from Silver Sneakers! Click HERE
The Perfect 5 Min Yoga Flow for Older Adults. Click HERE
5 Exercises for Heart Health. Click HERE
Reminder: You can find more fitness links on our More Online Programming page HERE
---
CLASSES AND LECURES FROM OUR INSTRUCTORS AND PARTNERS:
Watch and learn about Online Safety: Avoiding Internet and Phone Scams from our friends at Salus University. Click HERE Then download and print the Handout for reference. Click HERE
Learn all about Improving Your Sleep Habits Click HERE to watch. Download the Hand Out HERE.
Diabetes & Nutrition Class with Kirsten Puskar! Recorded classes and presentations from the last year can all be watched on our YouTube Channel CLICK HERE
More Lessons and Lectures from our instructors can be found on our More Online Programming Page– Click HERE
---
ART ACTIVITIES AND LECTURES:
Did You See This? Watch this fascinating Art lecture from the Museum of Fine Arts in Boston called- Learning to See. Click HERE
The Complete beginners guide to painting with Watercolors! Click HERE
Art Lesson about the style Salvador Dali with practice assignment. Click HERE
How to paint beautiful Watercolor Bumble Bees and Lavender. Click HERE
More Art Lessons and Lectures can be found on our More Online Programming Page– Click HERE
---
WATCH AND LEARN PRESENTATIONS:
10 great ideas for growing a backyard vegetable garden on a budget. Click HERE
Watch and learn about how Black and Decker got it's start. Click HERE
Watch and Learn about what it means for Philadelphia to be America's First World Heritage City. Click HERE
Join the "Philly Captain" as he explores Historic Germantown, in NW Philadelphia. Click HERE
---
VIRTUAL TOURS- PLACES YOU CAN VISIT TODAY:
Did You See This? Visit the Tennessee Aquarium today and see what is happening on their web cams! Click HERE
Tour Philadelphia's Magic Gardens, the largest work to date by mosaic artist Isaiah Zagar. Click HERE 
Take a Virtual Tour of some of the exhibits at the Museum of Fine Arts in Boston. Click HERE
---
GAMES, CRAFTS AND ACTIVITIES:
NEW TODAY! Learn how to use old magazines to make really fun and creative Collage Art. Click HERE
Collect some beautiful Fall Leaves and create easy pressed Leaf Art! Click HERE
Test your brain with this fun Anagram Crossword game from AARP. Click HERE
Time to get ready to start cooking for the Fall! Click Here for some great Fall favorites to try. 
---
FUN INTERACTIVE GAMES:
Tell Me Something Good! (with Special GUESTS!) All episodes (1-39) are HERE Watch the videos and share your thoughts with us. Join the Conversation!
All our Interactive Trivia Games from the past year and a half, you can play from home for fun:
*Answer videos included in each playlist, as we are no longer accepting answers in real time as these games have ended.
---
MORE INFORMATION:
Visit and subscribe to our YouTube Channel anytime by clicking HERE or visit our Facebook page (click HERE) for more links and to stay in touch!
To be added to our mailing list for bi-weekly emails or for more information, please contact Mariangela Saavedra, Director, at 215.247.4654 or [email protected]
For a complete list of programs, read the most recent issue of At the Center of Things, the newsletter of Center on the Hill. Download our latest newsletter of activities by [clicking here].