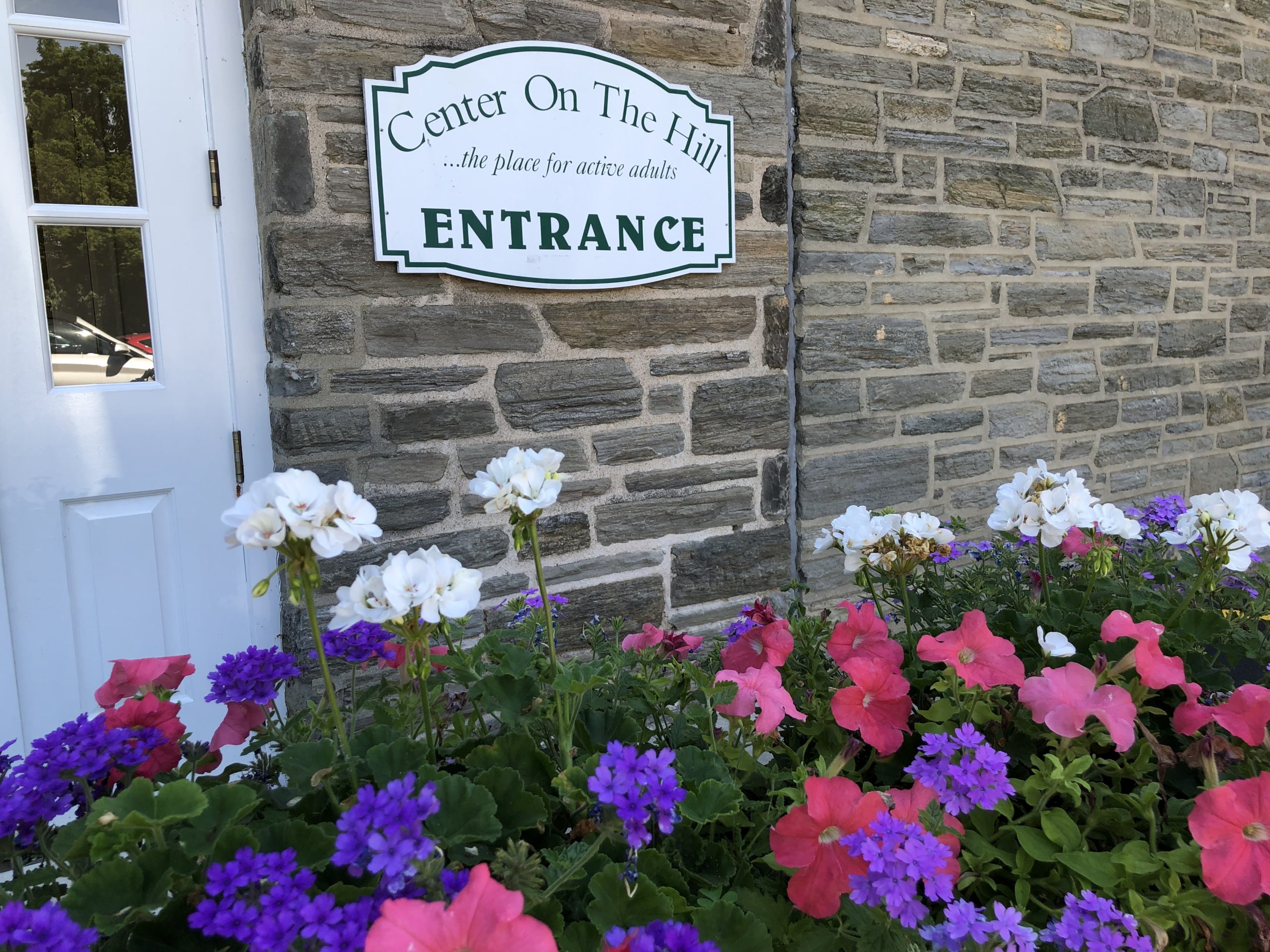 Center on the Hill will be re-opening October 5th for limited in-person classes and events, with guidelines and precautions in place. We will also be offering many of our activities streamed online as well for people who want to participate or watch from home. Read the full Announcement HERE.
NEW! View and Download the FALL NEWSLETTER HERE.
SCHEDULE CHANGE! Starting October 5th Online Content will posted here daily Mon-Thursday at Noon. Video messages, fitness activities, lectures, games, and much more will continue to be shared! CLICK HERE to view the fall schedule of daily postings starting October 5th.
To find more links and videos previously posted- CLICK HERE to visit our More Online Programming page where all our posts are archived for easy access. 
---
COMMUNITY RESOURCES AND SPECIAL EVENTS:
Find helpful resources on our web page HERE . Updated regularly with important information and resource links you may need during this time.
NEW! Behavioral Expressions Seminar, Wednesday, September 30th, 10:30am- 11:30am FREE Through this interactive presentation, you will learn how to support your loved ones with Dementia by identifying and responding to their behavioral expressions to uncover their unmet needs to better support them at home. Click HERE for Link to join on Zoom or # to Call in by Phone.
NEW! Let's Move: Mind, Body, Balance for Seniors in the Era of COVID-19, Thursday October 1st, 1:00pm-2:30pm An interactive presentation from New Cortland Senior Living in partnership with Chestnut Hill Hospital and Premiere Orthopedics. Click HERE for Link to join on Zoom or # Call in by Phone.
CLICK HERE to watch the How to Use Zoom Tutorial. This Basic Zoom Tutorial shows you how to join a Zoom Meeting/Event from your Computer, Tablet, Cell Phone or how to dial in from a Land Line.
THINGS TO KEEP YOU HEALTHY AND ACTIVE:
2 Simple exercises to help preserve our gait so you can walk with out pain or injury. Click HERE
9 relaxing stretches for stiff muscles. Click HERE
A 10 minute guided meditation to help relieve anxiety. Click HERE
50 minutes of chair yoga to keep you gently active today! Click HERE
Reminder: You can find more fitness links on our More Online Programming page HERE
---
MESSAGES AND LESSONS FROM OUR INSTRUCTORS:
Diabetes and Nutrition Education with Kirsten Puskar, is returning in October! Click HERE  for another sneak peek from Kirsten about it!  
What is Telemedicine? Jerri Kohut tells us all you need to know about this new way of being treated by your Doctor from home. CLICK HERE
View and Download the Center's Summer 2020 Cookbook, full of delicious recipes submitted by our instructors, presenters and community members! Click HERE  (Fall 2020 Cookbook coming in October)
---
ART ACTIVITIES AND LECTURES:
Learn how to create great compositions in your drawings and paintings. Click HERE
Start painting with watercolors! Watch this great Basics of Watercolor lesson. Click HERE
"A History of Art in Color" lecture presented by the Boston Museum of Fine Art. Click HERE
Architecture is ART! Watch these great short videos about the beauty found in New York City skyline. Click HERE
---
WATCH AND LEARN PRESENTATIONS:
NEW TODAY! Take a trip back in time to  early 1900's Philadelphia. Streets looked different, but many of the buildings remain today. See if you can spot them in this collection of old photos. Click HERE
Speakers Series on the Hill- Online. Speaker: Mark Nottingham Topic: An Economic Outlook. What the Presidential Election foretells and what to expect in 2021 Click HERE to watch.
Watch and Learn how to make a beautiful Fall Wreath for your home! Click HERE
Learn to make Not Your Grandma's Coleslaw. A delicious, healthy version of this favorite side dish. Click HERE
---
VIRTUAL TOURS- PLACES YOU CAN VISIT TODAY:
Explore these Virtual Exhibits at the National Women's History Museum today. Click HERE
Visit and explore Mt Fuji in Japan. Click HERE
Enjoy the light dancing about the garden at Chanticleer in this beautiful video tour. Click HERE
Explore the Great Barrier Reef in Australia on this interactive Virtual Tour! Click HERE
---
GAMES AND ACTIVITIES:
Try out these fun word games on the AARP website today! Click HERE
Get crafty today with these ideas for easy crafts you can make at home! Click HERE
Learn how to make an Origami Butterfly! Origami is great for calming your mind, and keeping your fingers nimble. Click HERE
Looking for new games to play? Check out this great list with links to many different kinds of fun games! Click HERE
---
FUN WAYS FOR YOU TO INTERACT WITH US:
NEW TODAY! Play Group 5 Round 3 of our interactive trivia game I Should Have Known That…! – Click HERE  (*honor system- no using the internet when you get stumped.) To play Rounds 1-2 Click HERE
Tell me something good! (now with Special GUESTS!) Episode 39 with Alicia and Noah. Click HERE  Watch the video and share your thoughts with us. Join the Conversation! (Episodes 1 – 38 can be found HERE)
---
MORE INFORMATION:
You can also visit and subscribe to our YouTube Channel anytime by clicking HERE.
Our Facebook page (click HERE) remains very active. Visit us often for updated links and to stay in touch!
To be added to our mailing list for weekly emails while the center is closed or for more information, please contact Mariangela Saavedra, Director, at 215.247.4654 or [email protected]
For a complete list of programs, read the most recent issue of At the Center of Things, the newsletter of Center on the Hill. Download our latest newsletter of activities by [clicking here].