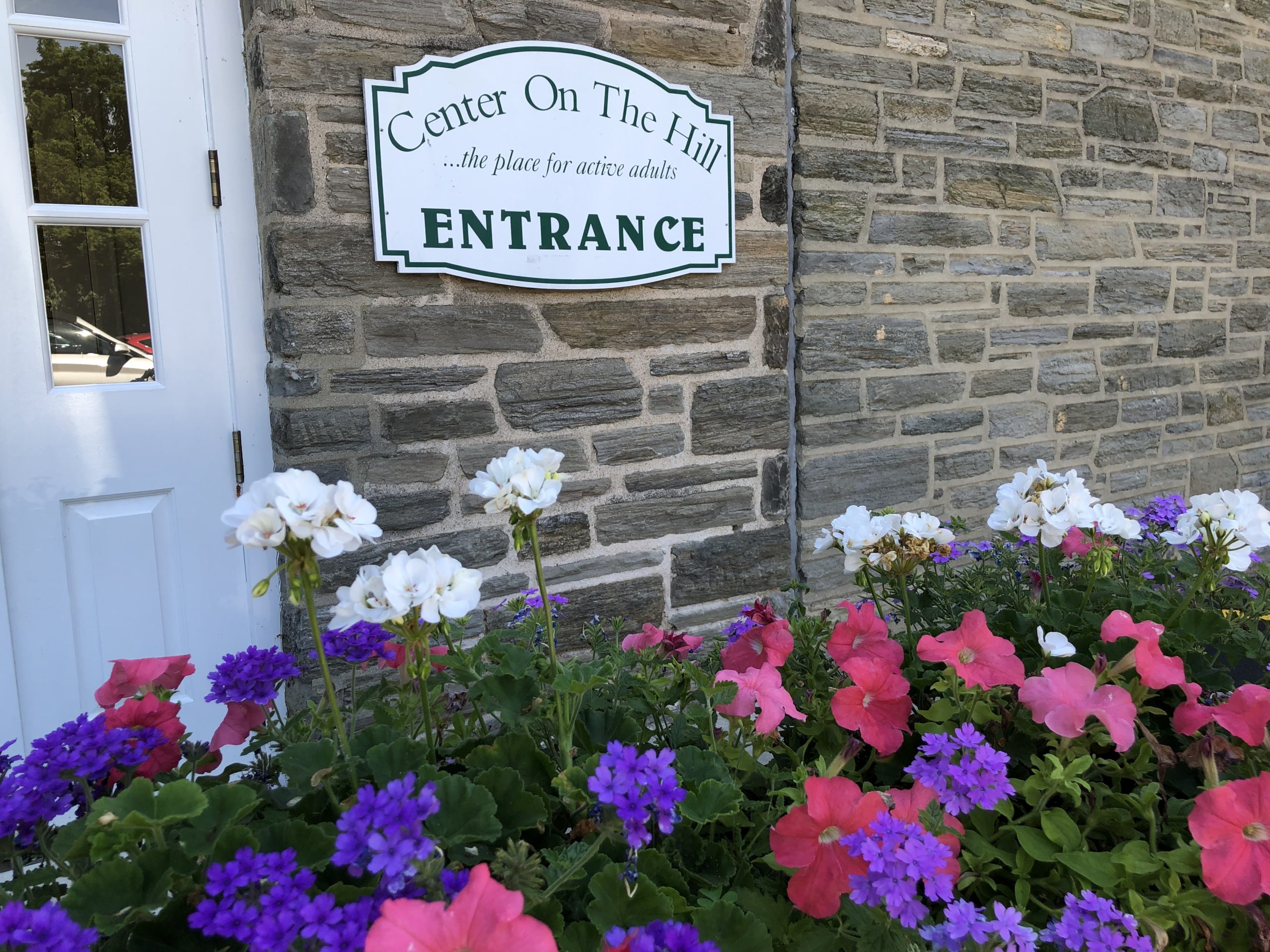 Center on the Hill is now OPEN for limited in-person activities (both inside and outside, with protocols in place), as well as a variety of things you can still participate in live online from home!
Check out our Spring Newsletter!! CLICK HERE to view and download your copy today!
New Online Content is posted here daily Monday – Thursday at Noon. Video messages, fitness activities, lectures, games, and much more! CLICK HERE to view the SPRING schedule of daily postings.
Find helpful resources on our web page HERE . Updated regularly with important information and resource links you may need during this time.
To find more links and videos previously posted- CLICK HERE to visit our More Online Programming page where all our posts are archived for easy access.
---
UPCOMING CLASSES & EVENTS:
REGISTRATION REQUIRED for both in-person and online participation in classes and events.
Information for how to join online events sent after you register.
TODAY! The Speakers Series on the Hill: Drew Brown– Philadelphia's consolidation of 1854, and how it led to us drinking the Schuylkill River. CLICK HERE to watch Live at 12:30pm or the recording posted at 5pm.
NEXT WEEK! Online Safety and Avoiding Internet/Phone Scams   Monday, May 17   11:00am-12:00pm FREE Presented in person to a limited number of people, and online to join on Zoom or by phone In this class, faculty and students from Salus University's Occupational Therapy Institute will share practical strategies and tips to increase your safety online. Participants will learn how to protect themselves and avoid falling victim to internet and telephone scammers. Discussion with a question and answer session will follow the presentation.
NEXT WEEK! Movie Musical Cabaret  Tuesday, May 18  1:00pm-2:00pm  FREE Starring Rachel DeMasi
Presented Live on Zoom for participation online, and streamed for a limited number of people in person  at the center.
In this 'Movie Musical Show', there will be a compilation of wonderfully timeless songs that were made famous in various films ranging from the 1930-1990s. Before each song you will find out which movie the songs were in, when they were produced, and even a fun fact or two about the song or film. So, sit back, relax and take a sunny drive through Tinsel Town!
STARTING NEXT WEEK! Drawing and Painting Foundations    Wednesdays, May 19- June 23    1:30pm-3:30pm   $120/6 week Session Presented on Zoom for participation by Computer, Tablet or Smartphone. "Making Art Makes Us Smarter".  In this foundation class, exercises will be introduced and will practice developing the skills you need to make successful paintings: line, shape , value, texture, and materials. Then we study and practice paint application, brushing, and color mixing. Pencils, watercolors, sketch paper and watercolor paper will get you started. A supply list will be shared after you register.
NEW NEXT WEEK! The Opioid Crisis and Covid 19   Thursday, May 20    11:00am-12:00pm  FREE
Presented in person for a limited number of people, and online to join by Zoom or Call in by phone. The Opioid Crisis and Covid 19 together have created a disaster for our country. Opioid use in the United States is not new. It goes back to the use of Morphine to help injured soldiers in both the revolutionary war and the civil war. Opioids are most often prescribed for acute pain. Standards of Care and number of Opioid prescriptions written required close monitoring, as misuse became significant. Today the use of opioids is at a crisis level and adding Covid 19 to the mix becomes devastating for all citizens. 
NEW NEXT WEEK! Beyond The Basics Of Your Apple (Ios) Devices   Thursday, May 20   2:00pm – 3:30pm   $12 This is class is In Person for a limited number of participants. This class is suitable if you are comfortable navigating Settings and the App Store. We'll have a broad discussion on getting the most out of your Apple device by tailoring its settings to personalize your apps, and we'll steer the conversation to meet the needs and interests of those in the class. You'll want to know your Apple password to be able to take full advantage of your device features.
Coming Soon! Learn and Play Croquet  Tuesday, May 25  10:30am-12:00pm FREE Outside on the lawn. 6 participants max  Croquet is a sport that involves hitting wooden balls with a mallet through hoops (called "wickets" in the United States) embedded in a grass playing court. Join us outside on the Lawn to learn how to play American Nine-Wicket aka "Backyard" Croquet. We will also discuss and try out a variation or two on this game as well. This is a fun and engaging way to get some fresh air and exercise while learning a new sport!
CLICK HERE to watch the How to Use Zoom Tutorial. This Basic Zoom Tutorial shows you how to join a Zoom Meeting/Event from your Computer, Tablet, Cell Phone or how to dial in from a Land Line.
THINGS TO KEEP YOU HEALTHY AND ACTIVE: 
20 minutes of Chair Yoga Flow to get you moving today! Click HERE
12 Minutes of Yoga to strengthen your core and improve posture and balance. Click HERE
Breathing Exercises for Anxiety Click HERE
Stretching and mobility workout to reduce stiffness and improve flexibility. Click HERE
Reminder: You can find more fitness links on our More Online Programming page HERE
---
CLASSES AND LECURES FROM OUR INSTRUCTORS AND PARTNERS:
Learn all about Improving Your Sleep Habits. Recorded live on Tuesday April 27th. Click HERE to watch. Download the Hand Out HERE.
Understanding Alzheimer's Disease presented by Jerri Kohut. Click HERE
Diabetes & Nutrition Class with Kirsten Puskar! Recorded classes and presentations from the last year can all be watched on our YouTube Channel CLICK HERE
Learn all about Medicare Options, from our Medicare counselor Joan Adler, in this informative presentation. Click HERE
---
ART ACTIVITIES AND LECTURES:
Did You See This? A Lesson on Painting Perfect Mushrooms In Watercolor. Click HERE
Try something new creatively today. BEGINNER Pastel Painting Lesson! Click HERE
Watch and Learn about the The Color Theory and how to mix your watercolor paints with Artist Paul Clark. Click HERE
---
WATCH AND LEARN PRESENTATIONS:
NEW TODAY! From the archives: Watch all about the Italian Artisans who built Chestnut Hill. Click HERE
Margaret Montet returns to present Part 2 of her presentation on 20th Century Music! Click HERE  You can watch Part 1 HERE if you missed it. 
History at Home: Forging a Community Fabric–The Houston/Woodward Developments Click HERE
Watch and Learn about the 1900 Paris Exposition World's Fair in Paris, through beautiful colorized photographs. Click HERE
---
VIRTUAL TOURS- PLACES YOU CAN VISIT TODAY:
Did You See This? Visit Chanticleer Gardens where the wisteria is in full bloom. Click HERE
Enjoy this great Virtual Tour of the Museum of the World by The British Museum. Best for History Lovers and Time Travelers. Click HERE
Visit the Mütter Museum of the College of Physicians of Philadelphia today on this guided Tour. Click HER
---
GAMES, CRAFTS AND ACTIVITIES:
Card Making 101: An Absolute Beginner's Guide to Card Making Click HERE
Learn to crochet an easy tote bag, for beginners. Click HERE
Get outside and get gardening! Here are 9 Beginner Gardening Mistakes to Avoid. Click HERE
Give your brain a workout and Play Scrabble Online. Click HERE
---
FUN INTERACTIVE GAMES:
Play Round 14 of our Trivia Game: THAT'S SO 80'S! Click HERE
Play Rounds 1 – 13 Click HERE
New rounds posted every Tuesday!
Every correct answer gets you entered to win!
*Honor system- don't use the internet when you get stumped.
Email your answers to [email protected]
Answers Video posted every 5 rounds! Click HERE for answers to Rounds 6-10.  Click HERE for answers to Rounds 1-5.
Tell Me Something Good! (with Special GUESTS!) All episodes (1-39) are HERE Watch the videos and share your thoughts with us. Join the Conversation! 
---
MORE INFORMATION:
Visit and subscribe to our YouTube Channel anytime by clicking HERE or visit our Facebook page (click HERE) for more links and to stay in touch!
To be added to our mailing list for bi-weekly emails or for more information, please contact Mariangela Saavedra, Director, at 215.247.4654 or [email protected]
For a complete list of programs, read the most recent issue of At the Center of Things, the newsletter of Center on the Hill. Download our latest newsletter of activities by [clicking here].