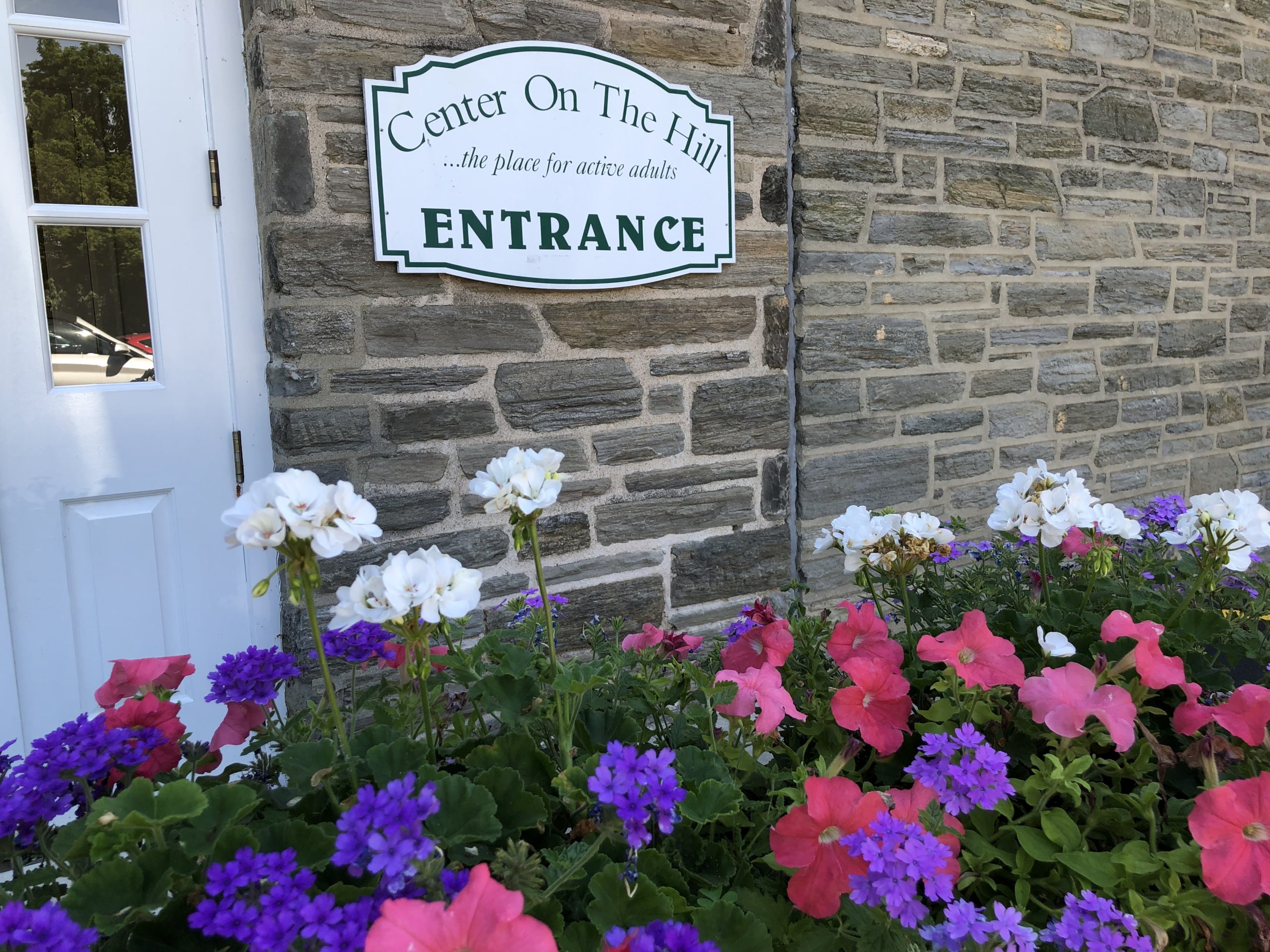 The Center on the Hill is OPEN Monday- Friday 9am-5pm with all our practices and protocols in place including (sanitation practices, limited number of participants per class, social distancing, and UV air filters).
THE SPRING NEWSLETTER IS HERE! Click HERE to view, download and print your copy today!
New Online Content is posted here daily Monday – Thursday at Noon. Fitness videos, lectures, games, and much more! CLICK HERE to view the schedule of daily postings.
Find helpful resources on our web page HERE . Updated regularly with important information and resource links you may need during this time.
To find more links and videos previously posted- CLICK HERE to visit our More Online Programming page where all our posts are archived for easy access.
---
UPCOMING CLASSES & EVENTS:
Registration Required for all classes and events. Contact 215-247-4654 or email: msaavedra@chestnuthillpres.org to register. Space in all activities is limited for social distancing. Streamed events are recorded and posted here the next day.
NAME THAT TUNE Tuesday, March 28 11:00am- 12:00pm FREE
Do you love music? Do you wish you knew a little more about some of your favorite songs? Join us for a fun and interactive music appreciation class! Back by popular demand, instructor Michael Kraus, will guide you through fun music lessons featuring songs from the past. Learn about the musical roots of songs you have known since childhood, and songs you still love to sing along with today. This class will be entertaining, engaging, educational and fun! Can you Name That Tune? Come and find out!
COMMUNITY LUNCHEON Tuesday, March 28 12:00pm $12 Registration & Payment Required by Friday 3/24. REGISTRATIONS RECEIVED AFTER THE FRIDAY BEFORE THE LUNCHEON OR THE DAY OF THE LUNCH, WILL BE CHARGED $15. Where else in the community can you go for lunch where you'll see both familiar and new faces, where the atmosphere is relaxed and welcoming, where the food is consistently good, and where it only costs you twelve dollars? Our large room is full of round tables that are simply decorated and set with white linens and festive tableware. We'd love to see you there! *Luncheons are subject to all current Covid guidelines, gathering size limits, and social distancing practices.
AFTERNOON MOVIES 1:30pm $2 Thursday, March 30 showing "Downton Abbey"
The continuing story of the Crawley family, wealthy owners of a large estate in the English countryside in the early twentieth century. The film, set in 1927, depicts a royal visit to the Crawley family's stately home in Yorkshire. As royal staff members descend on Downton, an assassin has also arrived and attempts to kill the monarch. The Cawley's and their servants are pitted against the royal entourage, including the Queen's lady-in-waiting, who has fallen out with the Crawley family, especially the Dowager Countess, over an inheritance issue.
THINGS TO KEEP YOU HEALTHY AND ACTIVE:
Did You See This? Try this Mobility & Stretching for Lower Back workout from Silver Sneakers. Click HERE
Learn some easy foot massage techniques to try at home. Click HERE
Work on your Strength and Balance today with this fun and easy workout! Click HERE
Reminder: You can find more fitness links on our More Online Programming page HERE
---
PRESENTATIONS FROM OUR INSTRUCTORS AND PARTNERS:
Our friends at Human Touch Home Care lead an important discussion about Post Lockdown Anxiety. Click Here to watch!
Watch our Travel Talk from Lyn at 115 Travel, all about traveling to California! Click HERE
Watch and learn about Navigating Your Health Needs from our friends at Prestige Health Care. Click HERE
Did you miss the presentation about How Nutrition Changes as you Age from our friends at Humana? Watch it today! Click HERE
More Lessons and Lectures from our instructors can be found on our More Online Programming Page– Click HERE
---
ART ACTIVITIES AND LECTURES:
Did You See This? Watch and learn about Artist Edgar Degas, and impressionism in the medium of Pastels. Click HERE
Try making an abstract floral painting with Acrylic paints. Click HERE
Learn how to paint on Black Watercolor paper. Click HERE
Try some easy collage art this year! Learn how to do paper scrap collage with fast flow stitching. Click HERE
More Art Lessons and Lectures can be found on our More Art Programs page- Click HERE
---
WATCH AND LEARN PRESENTATIONS:
Watch the February Forum on the Hill! Speaker Eric Gershenow– Topic: the science behind creating a new medication. Click HERE
Learn about the Hoover Dam, and how it changed the face of the American West. Click HERE
Discover Goose Island, a long forgotten part of Chicago that had a big part in shaping the city we know today. Click HERE
Watch and Learn about the construction of the Sears Tower in Chicago. Click HERE
---
VIRTUAL TOURS- PLACES YOU CAN VISIT TODAY:
Did You See This? Visit BOURNEMOUTH in Dorset, England! Click HERE
Things are starting to spring up at Chanticleer Gardens. Enjoy this recent video tour. Click HERE
Take a tour of the Mayflower II in Plymouth Massachusetts Click HERE
Visit the Historic Ancient Monuments of Kyoto, Japan today! Click HERE
---
GAMES, CRAFTS AND ACTIVITIES:
NEW TODAY! Play this fun trivia puzzle game from AARP. Click HERE
Make your life a little easier with these great Life Hacks that actually work! Click HERE
Spring is approaching, so what better time to try out some fun Crafts to brighten up your home! Click HERE
---
---
MORE INFORMATION:
Visit and subscribe to our YouTube Channel anytime by clicking HERE or visit our Facebook page (click HERE) for more links and to stay in touch!
To be added to our mailing list for bi-weekly emails or for more information, please contact Mariangela Saavedra, Director, at 215.247.4654 or msaavedra@chestnuthillpres.org.
For a complete list of programs, read the most recent issue of At the Center of Things, the newsletter of Center on the Hill. Download our latest newsletter of activities by [clicking here].