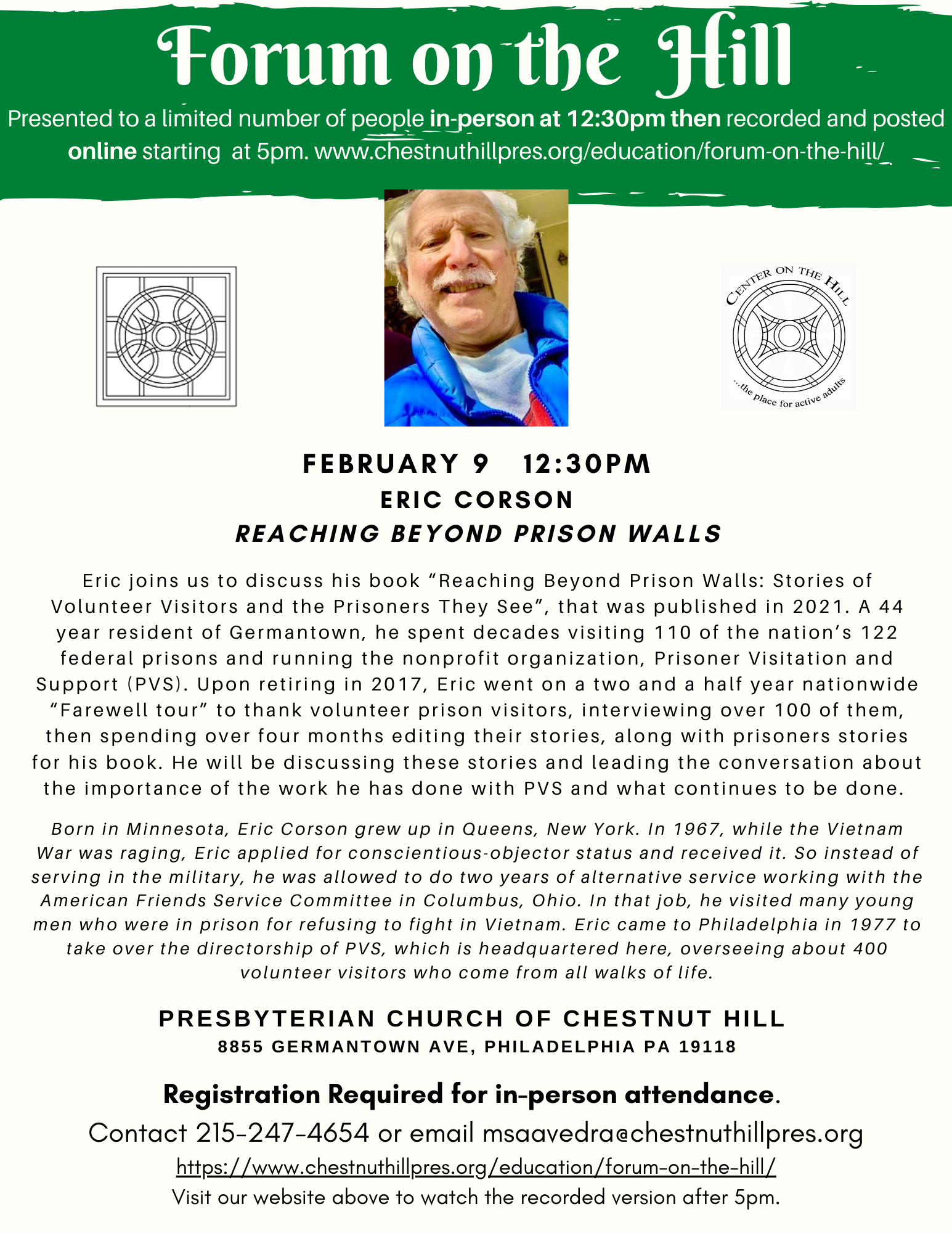 The Forum on the Hill provides opportunities for the community to engage with speakers once a month, (September- June) who discuss current topics. Join the Conversations! Presented both in person at 12:30pm in Widener Hall and then recorded and posted online here after 5pm. *Covid Protocols are still in place, but you may now bring a brown bag lunch, and we serve light snacks, water, and coffee.
Recorded Presentation will be posted HERE on Feb. 9th
A $5 donation is requested for the series to help support this program when you attend in person. Please consider making this small contribution through the secure Donate button below, or mail a check made out to PCCH to: Center on the Hill, 8855 Germantown Ave, Philadelphia PA 19118 if you watch online. Your support is greatly appreciated.
Registration Required to attend in person, please call 215-247-4654 or email
msaavedra@chestnuthillpres.org 
---
February 9th
Eric Corson
Reaching beyond prison walls.
Eric joins us to discuss his book "Reaching Beyond Prison Walls: Stories of Volunteer Visitors and the Prisoners They See", that was published in 2021. A 44 year resident of Germantown, he spent decades visiting 110 of the nation's 122 federal prisons and running the nonprofit organization, Prisoner Visitation and Support (PVS). Upon retiring in 2017, Eric went on a two and a half year nationwide "Farewell tour" to thank volunteer prison visitors, interviewing over 100 of them, then spending over four months editing their stories, along with prisoners stories for his book. He will be discussing these stories and leading the conversation about the importance of the work he has done with PVS and what continues to be done.

Born in Minnesota, Eric Corson grew up in Queens, New York. He majored in music at NYU and taught instrumental music in New York public schools for three years. In 1967, while the Vietnam War was raging, Eric applied for conscientious-objector status and received it. So instead of serving in the military, he was allowed to do two years of alternative service working with the American Friends Service Committee in Columbus, Ohio. In that job, he visited many young men who were in prison for refusing to fight in Vietnam. Eric came to Philadelphia in 1977 to take over the directorship of PVS, which is headquartered here, overseeing about 400 volunteer visitors who come from all walks of life. He and his wife have been members of the Green Street Meeting for over 30 years. 
---
PAST Forums:
Chris Petrak
Philadelphia and the Birth of American Ornithology  Watch HERE
Jane Golden
Mural Arts Philadelphia Watch HERE
Josh Hitchens
Haunted History of Philadelphia Watch HERE
John Wilkinson
Post Pandemic Church  Watch HERE
Dr. Jason Karlawish
The Problem of Alzheimer's   Watch HERE
Kathleen Barron, L. J. Rasi and Danny Rivera
The Impact of the Opioid Crisis on a Community   Watch HERE
Rachel Falkove, Executive Director, Philadelphia Interfaith Hospitality Network
Tara Monihan, Director of Programs, Face to Face Germantown
Eileen Jones, Executive Director, Germantown Avenue Crisis Ministry
Serving Our Neighbors During the Pandemic and Beyond   Watch HERE