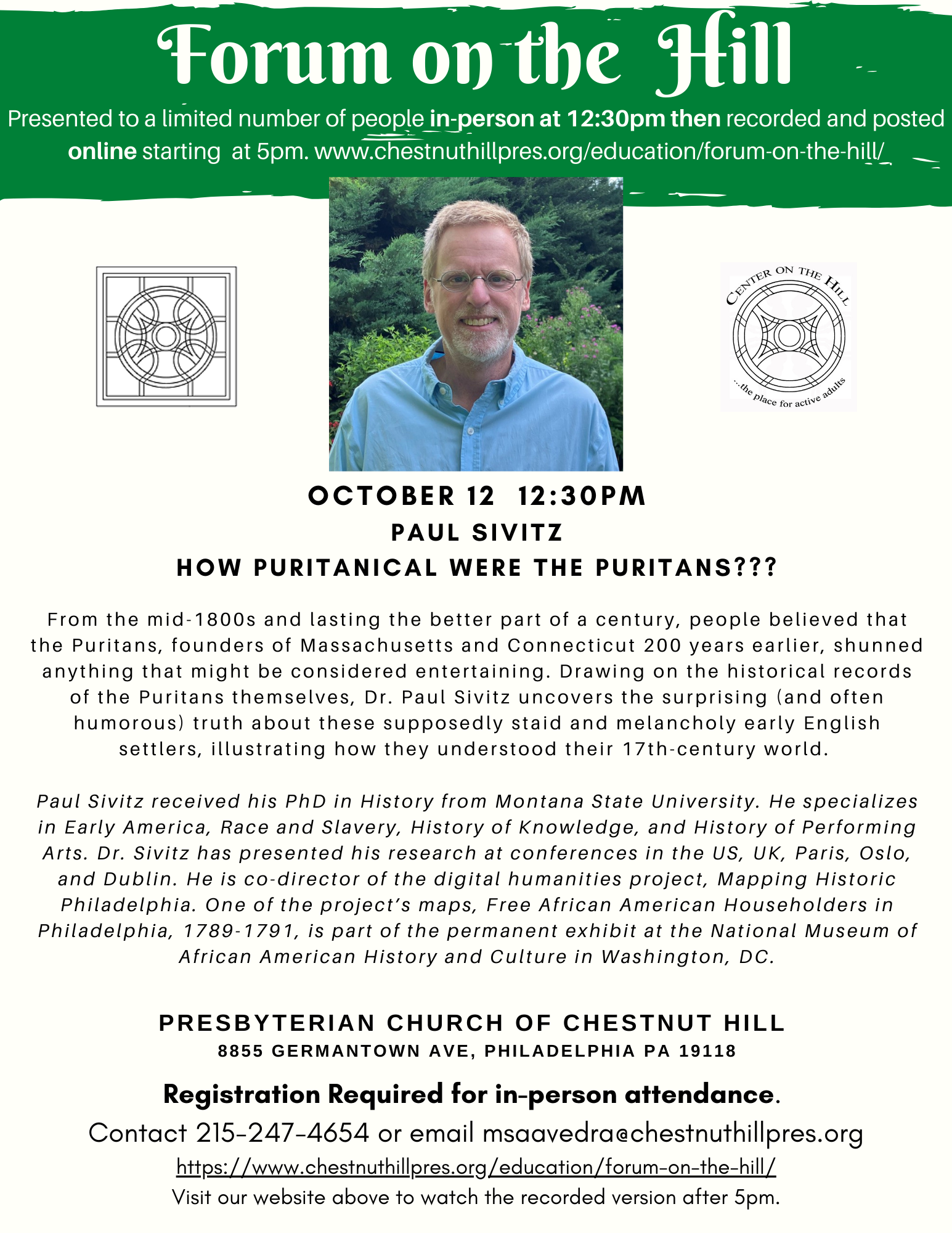 The Forum on the Hill provides opportunities for the community to engage with speakers once a month, (September- June) who discuss current topics. Join the Conversations! Presented both in person at 12:30pm in Widener Hall and then recorded and posted online here after 5pm. *Covid Protocols are still in place, but you may now bring a brown bag lunch, and we serve light snacks, water, and coffee.
Link to watch recorded presentation posted HERE at 5pm on October 12th
A $5 donation is requested for the series to help support this program when you attend in person. Please consider making this small contribution through the secure Donate button below, or mail a check made out to PCCH to: Center on the Hill, 8855 Germantown Ave, Philadelphia PA 19118 if you watch online. Your support is greatly appreciated.
Registration Required to attend in person, please call 215-247-4654 or email
msaavedra@chestnuthillpres.org 
---
October 12
Paul Sivitz
How Puritanical were the Puritans???
From the mid-1800s and lasting the better part of a century, people believed that the Puritans, founders of Massachusetts and Connecticut 200 years earlier, shunned anything that might be considered entertaining. Drawing on the historical records of the Puritans themselves, Dr. Paul Sivitz uncovers the surprising (and often humorous) truth about these supposedly staid and melancholy early English settlers, illustrating how they understood their 17th-century world.

Paul Sivitz received his PhD in History from Montana State University. He specializes in Early America, Race and Slavery, History of Knowledge, and History of Performing Arts. Dr. Sivitz has presented his research at conferences in the US, UK, Paris, Oslo, and Dublin. He is co-director of the digital humanities project, Mapping Historic Philadelphia. One of the project's maps, Free African American Householders in Philadelphia, 1789-1791, is part of the permanent exhibit at the National Museum of African American History and Culture in Washington, DC.
---
Recent PAST Forums:
Thomas Keels
Franklins Forgotten Philadelphia  Watch HERE
Dan Biddle and Murray Dubin
Tasting Freedom: the life of civil rights activist Octavius Catto. Watch HERE
Eric Gershenow
The Science Behind Creating a New Medication Watch HERE

Eric Corson
Reaching Beyond Prison Walls Watch HERE
Chris Petrak
Philadelphia and the Birth of American Ornithology  Watch HERE
Jane Golden
Mural Arts Philadelphia Watch HERE
Josh Hitchens
Haunted History of Philadelphia Watch HERE
Dr. Jason Karlawish
The Problem of Alzheimer's   Watch HERE