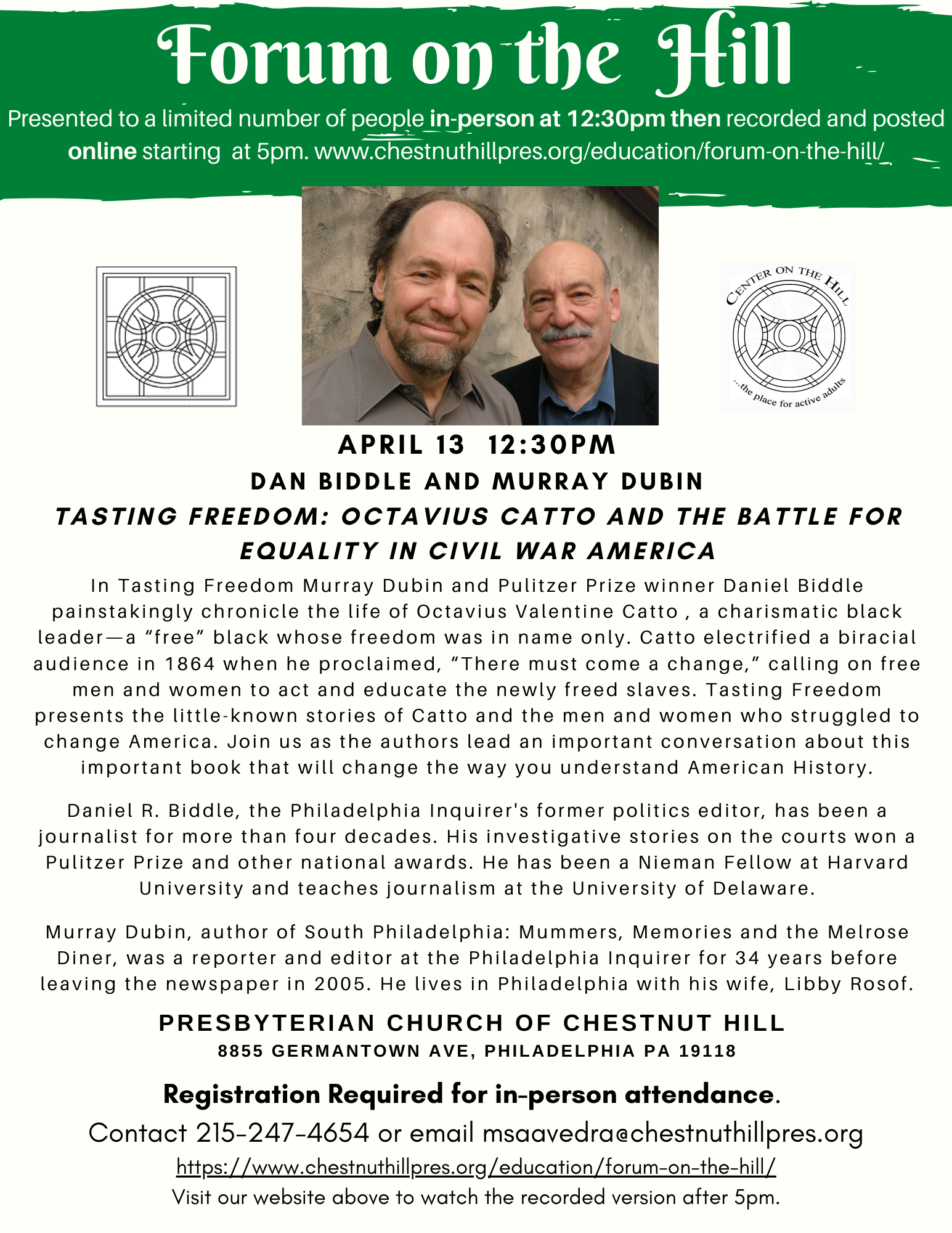 The Forum on the Hill provides opportunities for the community to engage with speakers once a month, (September- June) who discuss current topics. Join the Conversations! Presented both in person at 12:30pm in Widener Hall and then recorded and posted online here after 5pm. *Covid Protocols are still in place, but you may now bring a brown bag lunch, and we serve light snacks, water, and coffee.
A $5 donation is requested for the series to help support this program when you attend in person. Please consider making this small contribution through the secure Donate button below, or mail a check made out to PCCH to: Center on the Hill, 8855 Germantown Ave, Philadelphia PA 19118 if you watch online. Your support is greatly appreciated.
Registration Required to attend in person, please call 215-247-4654 or email
msaavedra@chestnuthillpres.org 
---
April 13
Dan Biddle and Murray Dubin
Tasting Freedom: Octavius Catto and the Battle for Equality in Civil War America
In Tasting Freedom Murray Dubin and Pulitzer Prize winner Daniel Biddle painstakingly chronicle the life of Octavius Valentine Catto , a charismatic black leader—a "free" black whose freedom was in name only. Catto electrified a biracial audience in 1864 when he proclaimed, "There must come a change," calling on free men and women to act and educate the newly freed slaves. With a group of other African Americans who called themselves a "band of brothers," they challenged one injustice after another. Tasting Freedom presents the little-known stories of Catto and the men and women who struggled to change America. Join us as the authors lead an important conversation about this important book that will change the way you understand American History.
Daniel R. Biddle, the Philadelphia Inquirer's former politics editor, has been a journalist for more than four decades. His investigative stories on the courts won a Pulitzer Prize and other national awards. He has been a Nieman Fellow at Harvard University and teaches journalism at the University of Delaware.
Murray Dubin, author of South Philadelphia: Mummers, Memories and the Melrose Diner, was a reporter and editor at the Philadelphia Inquirer for 34 years before leaving the newspaper in 2005. He lives in Philadelphia with his wife, Libby Rosof.
---
Recent PAST Forums:
Eric Gershenow
The Science Behind Creating a New Medication Watch HERE

Eric Corson
Reaching Beyond Prison Walls Watch HERE
Chris Petrak
Philadelphia and the Birth of American Ornithology  Watch HERE
Jane Golden
Mural Arts Philadelphia Watch HERE
Josh Hitchens
Haunted History of Philadelphia Watch HERE
John Wilkinson
Post Pandemic Church  Watch HERE
Dr. Jason Karlawish
The Problem of Alzheimer's   Watch HERE
Kathleen Barron, L. J. Rasi and Danny Rivera
The Impact of the Opioid Crisis on a Community   Watch HERE