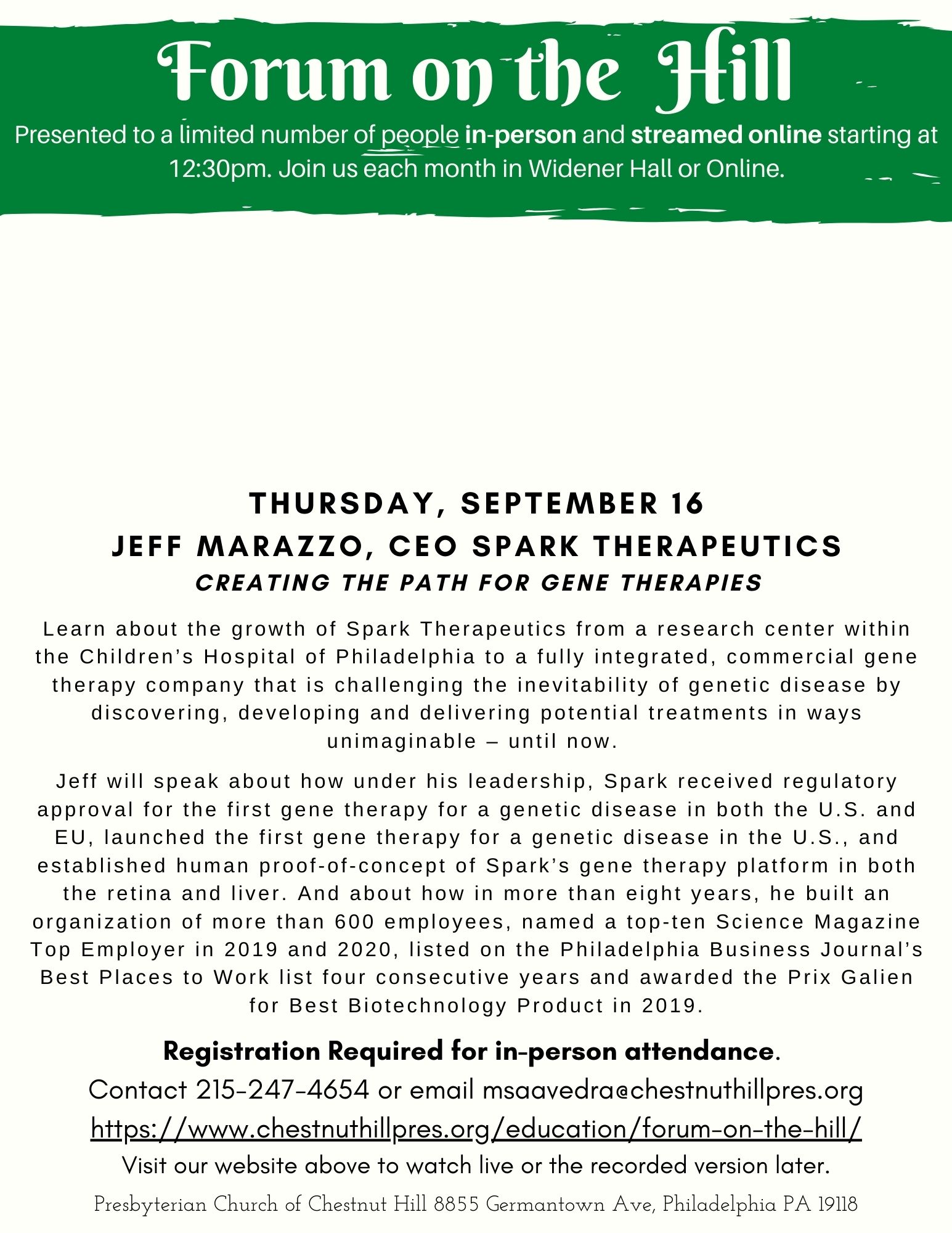 The Forum on the Hill provides opportunities for the community to engage with speakers once a month, who present on current topics. Join the Conversations! Presented both online here and to a limited in person audience (30 people max) in Widener Hall. *Due to Covid Protocols we are not serving refreshments at this time. Bottled water and grab and go snacks will be provided. 
A $5 donation is requested for the series to help support this program. Please consider making this small contribution through the secure Donate button below, or mail a check made out to PCCH to: Center on the Hill, 8855 Germantown Ave, Philadelphia PA 19118. Your support is greatly appreciated.
To RSVP to attend in person, or if you have other questions, please call 215-247-4654 or email [email protected] 
---
 Thursday, September 16, 2021 @ 12:30pm
Jeff Marazzo, CEO Spark Therapeutics



Creating The Path For Gene Therapies
Learn about the growth of Spark Therapeutics from a research center within the Children's Hospital of Philadelphia to a fully integrated, commercial gene therapy company that is challenging the inevitability of genetic disease by discovering, developing and delivering potential treatments in ways unimaginable – until now.
Jeff will speak about how under his leadership Spark received regulatory approval for the first gene therapy for a genetic disease in both the U.S. and EU, launched the first gene therapy for a genetic disease in the U.S., and established human proof‐of‐concept of Spark's gene therapy platform in both the retina and liver. In more than eight years, he built an organization of more than 600 employees, was named a top‐ten Science Magazine Top Employer in 2019 and 2020, was listed on the Philadelphia Business Journal's Best Places to Work, and was awarded the Prix Galien for Best Biotechnology Product in 2019.
PAST Presenters:
Dr. Michael Stephen
The Power, Fragility, and Future of our Extraordinary Lungs  Watch HERE
Pamela King
Digital Data Security & Privacy: What you don't know can hurt you. Watch HERE
Download resource links she shared: Click HERE    Download steps to take if you have been hacked. Click HERE
Mike Sielski
Philadelphia Sports Media- yesterday, today and tomorrow  Watch HERE
Lawrence Arrigale and Thomas H Keels
Miracles on Market Street-Philadelphia's Golden Age of Retail  WATCH HERE