External Links and Resources
---
The Covenant Network
The Covenant Network of Presbyterians is a broad-based, national group of clergy and lay leaders working for a church that is simultaneously faithful, just, and whole. The Covenant Network seeks to:
support the mission and unity of the Presbyterian Church (USA);
articulate and act on the church's historic, progressive vision;
work for a fully inclusive church;
find ways to live out the graciously hospitable gospel by living together with all our fellow members in the PC(USA).
The Crossing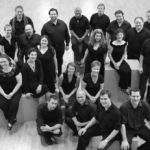 Winner of the 2009 and 2011 ASCAP Awards for Adventurous Programming, The Crossing is a twenty-four-member professional chamber choir conducted by Donald Nally. Originally formed by a core group of friends in 2005, the ensemble was the resident choir of the Spoleto Festival, Italy in 2007 and has since expanded number of performances, commissions, and collaborations exponentially, appearing last September at Miller Theatre of Columbia University in the American premiere of James Dillon's Nine Rivers with the International Contemporary Ensemble (ICE), at Bang on a Can's first Philadelphia Marathon in 2010, and with Network for New Music during The Crossing's annual Month of Moderns festival in 2012.
The Pennsylvania Girlchoir
Founded in the fall of 2004, Pennsylvania Girlchoir has grown to over 160 girls from five counties in southeastern Pennsylvania, as well as from New Jersey and Delaware..
Pennsylvania Girlchoir consists of five choirs: Schola Cantorum, Kantorei, Troubadours, Trouvères, and Motets.
As a member of the Commonwealth Youthchoir organization, Pennsylvania Girlchoir shares its mission: to offer excellent choral music education and performance opportunities to singers from diverse economic and racial-ethnic backgrounds, while nurturing leadership skills, building character and encouraging self-discipline.
Presbytery of Philadelphia
The Presbytery's history is rich both in relationship to its development during key periods of American history and in its historical location.  The Presbytery of Philadelphia is the oldest Presbytery in the United States and home to some of the oldest Presbyterian Churches in the nation.  Since 1946 the offices of the Presbytery of Philadelphia was a downtown historical building at the corner of 22nd and Locust. The Presbytery recently sold the long time office in order to purchase a new, accommodating building for the use of local churches and other community groups interested in a professional space to rent for meetings, conferences, and retreats.  The current building, located at Stenton and Gowen in the Mt. Airy neighborhood, houses a small chapel, a resource center for Presbyterian Churches in the Philadelphia area, and a large boardroom with floor to wall whiteboards, large tables, comfortable chairs, a room divider, and internet access.  The furniture in the conference rooms offers mobility depending on the needs of our building guests.