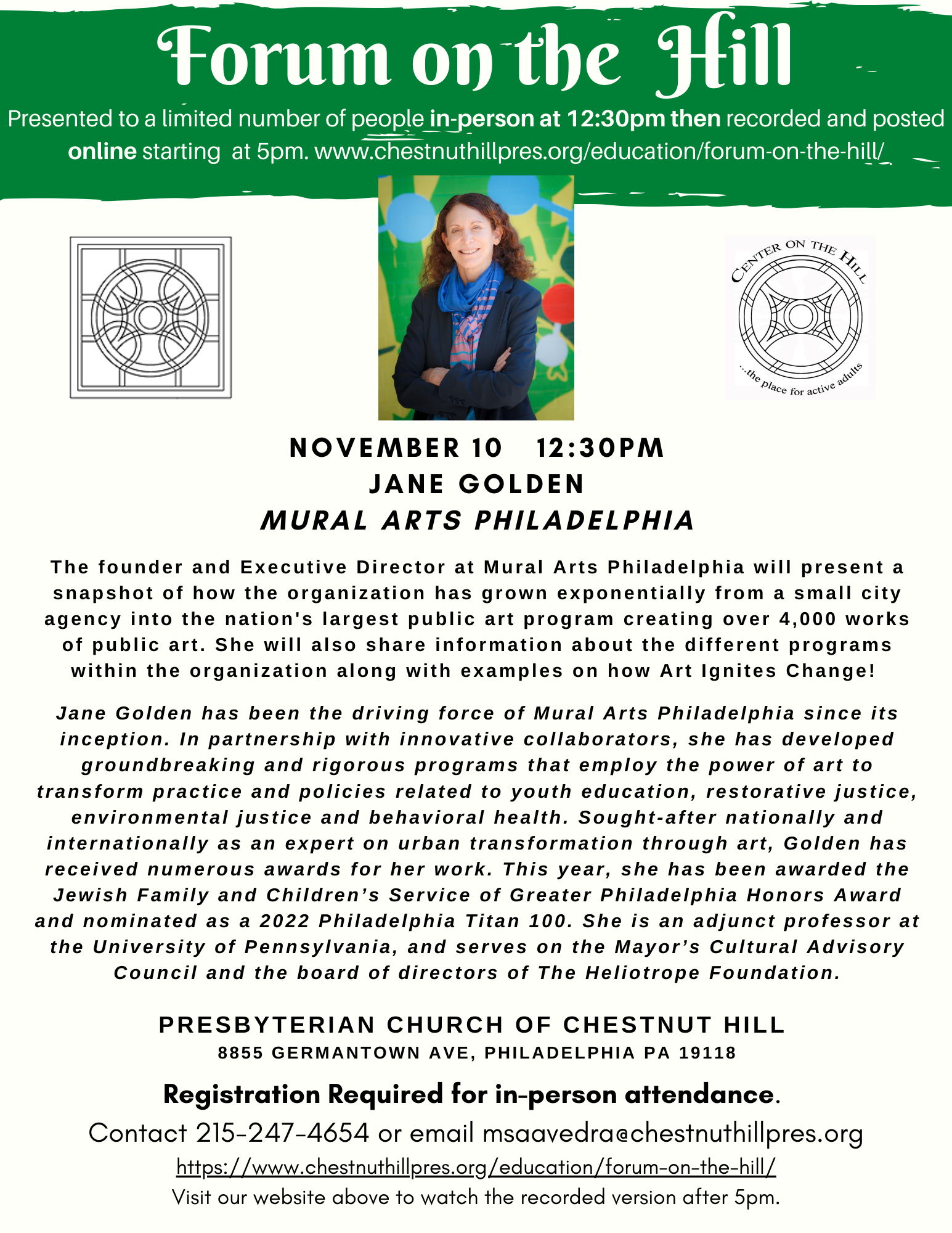 The Forum on the Hill provides opportunities for the community to engage with speakers once a month, (September- June) who discuss current topics. Join the Conversations! Presented both in person at 12:30pm in Widener Hall and then recorded and posted online here after 5pm. *Covid Protocols are still in place, but you may now bring a brown bag lunch, and we serve light snacks, water, and coffee.
A $5 donation is requested for the series to help support this program when you attend in person. Please consider making this small contribution through the secure Donate button below, or mail a check made out to PCCH to: Center on the Hill, 8855 Germantown Ave, Philadelphia PA 19118 if you watch online. Your support is greatly appreciated.
Registration Required to attend in person, please call 215-247-4654 or email
[email protected] 
---
November 10
Jane Golden
Mural Arts Philadelphia
The founder and Executive Director at Mural Arts Philadelphia will present a snapshot of how the organization has grown exponentially from a small city agency into the nation's largest public art program creating over 4,000 works of public art. She will also share information about the different programs within the organization along with examples on how Art Ignites Change!
Jane Golden has been the driving force of Mural Arts Philadelphia since its inception. In partnership with innovative collaborators, she has developed groundbreaking and rigorous programs that employ the power of art to transform practice and policies related to youth education, restorative justice, environmental justice and behavioral health. Sought-after nationally and internationally as an expert on urban transformation through art, Golden has received numerous awards for her work. This year, she has been awarded the Jewish Family and Children's Service of Greater Philadelphia Honors Award and nominated as a 2022 Philadelphia Titan 100. She is an adjunct professor at the University of Pennsylvania, and serves on the Mayor's Cultural Advisory Council and the board of directors of The Heliotrope Foundation.
PAST Forums:
Josh Hitchens
Haunted History of Philadelphia Watch HERE
John Wilkinson
Post Pandemic Church  Watch HERE
Michael Kraus
A Modern Renaissance Man  Watch HERE
Rev. Dr. Beth Shalom Hessel
The Right to Be American: Japanese Americans and World War II  Watch HERE
Dr. Jason Karlawish
The Problem of Alzheimer's   Watch HERE
Kathleen Barron, L. J. Rasi and Danny Rivera
The Impact of the Opioid Crisis on a Community   Watch HERE
Sr. Catherine T. Nerney  
Forgiveness and Reconciliation: The Great Work of Love in a Wounded World   Watch HERE
Rachel Falkove, Executive Director, Philadelphia Interfaith Hospitality Network
Tara Monihan, Director of Programs, Face to Face Germantown
Eileen Jones, Executive Director, Germantown Avenue Crisis Ministry
Serving Our Neighbors During the Pandemic and Beyond   Watch HERE
Jeff Marazzo
Creating The Path For Gene Therapies   Watch HERE
Dr. Michael Stephen
The Power, Fragility, and Future of our Extraordinary Lungs   Watch HERE
Mike Sielski
Philadelphia Sports Media- yesterday, today and tomorrow   Watch HERE