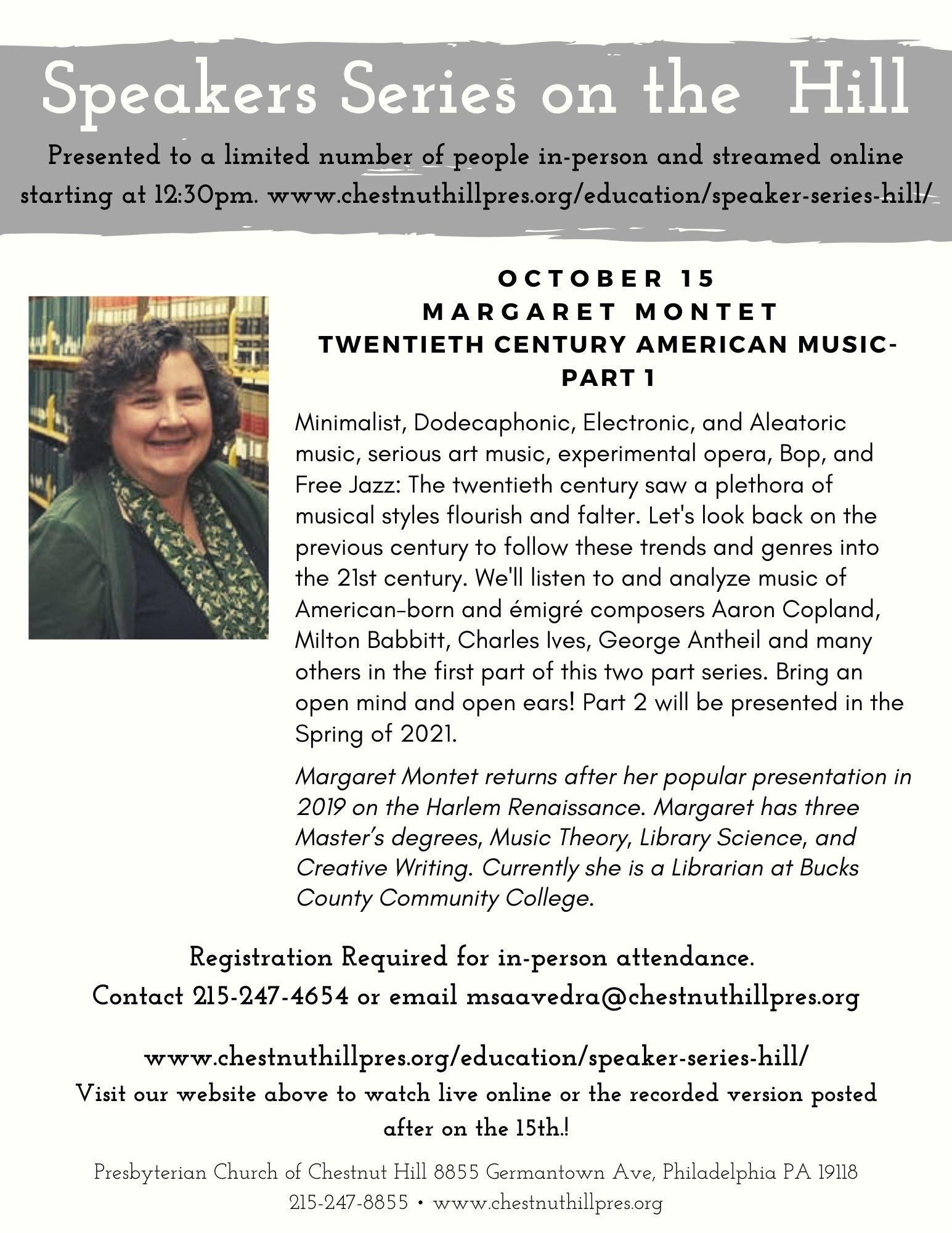 Speaker Series on The Hill
A monthly watch and learn opportunity for members and those in the community, featuring speakers of interest, now presented online as well as in person. Register to come watch in person (space is limited to 15 people max) or click the Link Below to watch the presentation live on ZOOM starting at 12:30pm. Recorded version is posted here at 5:00pm following the live presentation.
---
---
A $5 donation is requested for the series to help support this program. Please consider making this small contribution through the secure Donate button below. Your support is greatly appreciated.
To Register to watch in person, or if you have questions for the Speaker please call 215-247-4654 or email [email protected] 
---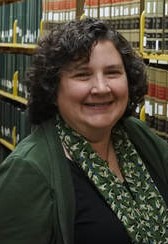 October 15, at 12:30pm
Speaker: Margaret Montet
Topic: Twentieth Century American Music- Part 1
Minimalist, Dodecaphonic, Electronic, and Aleatoric music, serious art music, experimental opera, Bop, and Free Jazz: The twentieth century saw a plethora of musical styles flourish and falter. Let's look back on the previous century to follow these trends and genres into the 21st century. We'll listen to and analyze music of American-born and émigré composers Aaron Copland, Milton Babbitt, Charles Ives, George Antheil and many others in the first part of this two part series. Bring an open mind and open ears! Part 2 will be presented in the Spring of 2021.
Margaret Montet returns after her popular presentation in 2019 on the Harlem Renaissance. Margaret has three Master's degrees, Music Theory, Library Science, and Creative Writing. Currently she is a Librarian at Bucks County Community College.
---
PAST Speakers:
April Speaker: Eric Gershenow
The Future of Medicine- The Emergence of Cell and Gene Therapies CLICK HERE TO WATCH
May Speaker: Elizabeth Sawyer
Unearthing the Past: Archaeological Research at Thomas Jefferson's Monticello  CLICK HERE TO WATCH
June Speaker: Yosaif August
An Encore Career: Fill your next life chapter with purpose, passion, possibility and a paycheck  CLICK HERE TO WATCH
September Speaker: Mark Nottingham
An Economic Outlook. What the Presidential Election foretells and what to expect in 2021  CLICK HERE TO WATCH