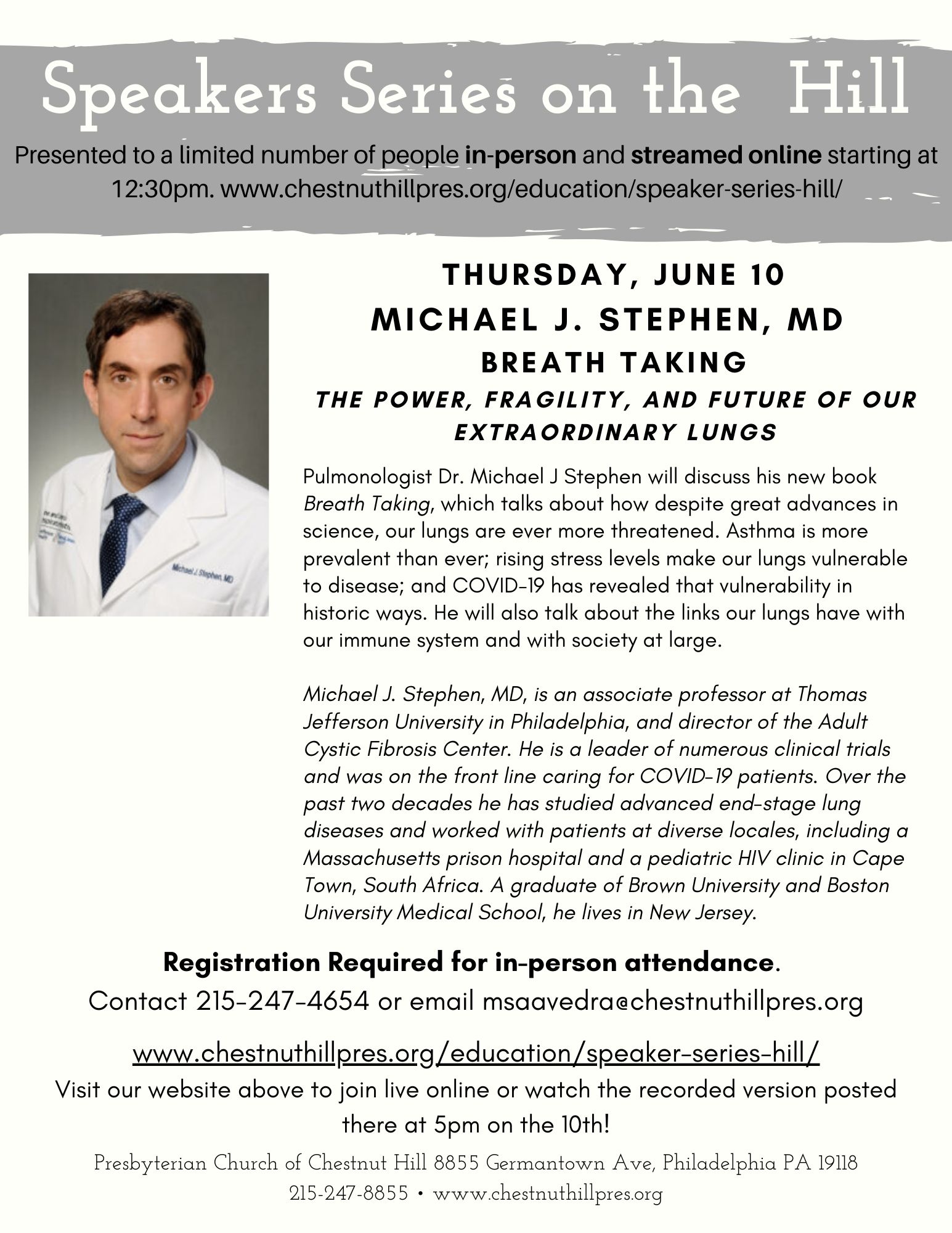 Speaker Series on The Hill
A monthly watch and learn opportunity for members and those in the community, featuring speakers of interest. Presented both online and to a limited in person audience (15 people max) in Widener Hall.
Due to covid-19 guidelines and precautions we will not be serving deserts and beverages at this series for those viewing in person. The recorded presentation is posted here at 5pm.
---
CLICK HERE to purchase Dr. Stephen's Book: Breath Taking in Hard Copy or on Audio Book. 
---
A $5 donation is requested for the series to help support this program. Please consider making this small contribution through the secure Donate button below, or mail a check made out to PCCH to: Center on the Hill, 8855 Germantown Ave, Philadelphia PA 19118. Your support is greatly appreciated.
To RSVP to attend in person, or if you have questions for the Speaker or need assistance joining the event live online, please call 215-247-4654 or email [email protected] 
---
 Thursday, June 10th   12:30pm
MICHAEL J. STEPHEN, MD



BREATH TAKING- THE POWER, FRAGILITY, AND FUTURE OF OUR EXTRAORDINARY LUNGS
Pulmonologist Dr. Michael J Stephen will discuss his new book Breath Taking, which talks about how despite great advances in science, our lungs are ever more threatened. Asthma is more prevalent than ever; rising stress levels make our lungs vulnerable to disease; and COVID-19 has revealed that vulnerability in historic ways. He will also talk about the links our lungs have with our immune system and with society at large.
Michael J. Stephen, MD, is an associate professor at Thomas Jefferson University in Philadelphia, and director of the Adult Cystic Fibrosis Center. He is a leader of numerous clinical trials and was on the front line caring for COVID-19 patients. Over the past two decades he has studied advanced end-stage lung diseases and worked with patients at diverse locales, including a Massachusetts prison hospital and a pediatric HIV clinic in Cape Town, South Africa. A graduate of Brown University and Boston University Medical School, he lives in New Jersey.
---
PLEASE HELP us plan for upcoming Speakers Series presentations! We would really appreciate it if you could take a few minutes to follow this link to take this brief survey: CLICK HERE  and share with us your thoughts about our Speakers Series and what you would be interested in for the future. We thank you in advance for your feedback!
---
PAST Speakers:
May 2021: Drew Brown 
Philadelphia's consolidation of 1854, and how it led to us drinking the Schuylkill River. Watch HERE
Pamela King
Digital Data Security & Privacy: What you don't know can hurt you. Watch HERE
Download resource links she shared: Click HERE    Download steps to take if you have been hacked. Click HERE
Mike Sielski
Philadelphia Sports Media- yesterday, today and tomorrow  Watch HERE
Thomas Hine
Populuxe Revisited: The Look and Life of Midcentury America Watch HERE

David Thornburg
The 2020 Election's (Almost!) Over: Now What? The Challenges to Politics and Governance in Pennsylvania  WATCH HERE
Lawrence Arrigale and Thomas H Keels
Miracles on Market Street-Philadelphia's Golden Age of Retail  WATCH HERE